The battle between the Samsung Galaxy S3 and the iPhone 5 has been a topic of conversation since Apple launched its latest smartphone on September 21st.  The new and improved iPhone 5 boasts a bigger 4" screen, quicker processing time, and the 4G network.  Samsung, on the other hand, claims that Apple is "late" in their so-called "new" offerings – since the Galaxy S3 already has these features.  Similar to the ongoing Pepsi vs. Coke rivalry, Samsung is taking a bold stance with its latest commercial destroying the iPhone 5 and everything it lives up to be.
Q: If the two phones are so similar, then how do we, as consumers, choose?
A: Features shouldn't be the only influence in the selection process; the ability to meet consumer demands and sustain satisfaction also comes into play.
A report from Research and Markets assessed the customer contact experience in the United States, which included the telecommunications industry.  It pointed out the different means of contacting a call center: e-mail, web chat, and IVR.  The report indicated that these channels still don't prove to be very effective for resolving customer issues – many still desire a live agent conversation.  
Is the telecommunications industry meeting consumer demands?

Apple customers waited for new features, waited in long line-ups, and they also waited on hold.  Despite the millions of preorders and anticipated volume on launch day, Apple and iPhone carriers were unable to service their consumers.  Extremely frustrated customers flocked to social media sites to express their aggravation.
Statistical proof can be found on #onholdwith – a site dedicated to scanning Twitter for messages from people who are waiting on hold.  Most complaints with carriers occurred on September 14th – days after the iPhone 5 pre-release order.  A total of 96 tweets went out to companies such as Rogers, O2 Mobile, T-Mobile and Verizon from consumers waiting on hold.
iPhone 5: Telecom Related Hold Time Complaints  
Number of Tweets by Day – September 2012
As for Apple, they received a whopping 267 tweets by individuals specifically complaining about waiting on hold.  Even with Verizon and AT&T blocking out employee vacation time to keep staff on hand, they still couldn't keep up with the herds of telephone calls.
Not surprisingly, Apple received the highest spike in complaints during the September 21st launch with 67 tweets from that day alone.
Apple – Hold Time Complaints
Number of Tweets by Day – September 2012
It's evident that Apple executives should be concentrating on ensuring customer satisfaction over the phone.  Consumers not only need, but require, a perfect balance between an innovative product and customer service that exceeds their expectations.
Apple is a leader in technology innovation – so why do they continue to use archaic means for their call centers?  It's clear that the focus needs to be on eliminating hold time and improving the customer experience. 
Faronics, a Fonolo customer, did just that and received great praise for delivering exceptional service – evident with this feedback from one of their customers:
This tech support experience was one of the best I have ever had. Not only did you call immediately, but the tech supplied the answer/solution to my problem and helped me find solutions in the future on my own by getting me to download the manual. 
About OnHoldWith.com
#onholdwith provides consumers with a platform to post and discuss their frustrations.  It catalogs complaints about waiting on hold with the #onholdwith hashtag, makes them publicly available, and alerts companies when there are problems with their hold times.
Frustrated with long call center hold times?
Let everyone know who you're #onholdwith by sharing your frustration in the offending company's Twitter feed!
Log into your Twitter account
Tweet who you're #onholdwith (remember to include the company's handle)
Share with your followers – there's power in numbers!
We're hoping the pressure will motivate companies to make changes so you and millions of other customers aren't suffering through a horrible call center experience.
Fonolo Can Help 
The team at Fonolo is on a mission to solve a problem that so prevalently exists in today's society.
Fonolo is the most convenient way to connect customers with your call center, regardless of where the conversation begins.  Simply offer a call-back so your customers never wait on hold again.
Cloud-Based: Secure and scalable. Nothing to install.
Fast and Flexible: Fonolo adapts to your existing call center. Get up and running in days!
Affordable: Fits any budget. Flat rate pricing from $99/month.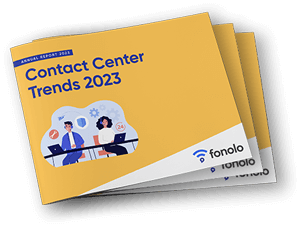 Trend Alert! Contact Center Industry Predictions for 2023
This report offers perspective on where the contact center industry stands today, plus our trend predictions for 2023.