It's been an intense 8 months and we're excited to introduce you to the new Fonolo!
Interact with Fonolo
While we invested a lot of time on the design of the site, there's more to us than just a 'pretty face'. You'll notice new messaging that clearly describes who we are and what we do . It's also a more engaging site that really showcases a realistic version of what Fonolo looks like (we even let you play with it).
Fonolo Customer Profiles
Over the last couple of years, Fonolo has built a respectable client roster. It was important to showcase Fonolo's diverse services and how a wide range of industries are using Fonolo to improve the call center experience.
Our mission is always the same: To make the call center experience better. But each story is unique: Allstream is empowering its field technicians who use Fonolo on their BlackBerry® devices; RBC is managing their internal help desk volume, and World Travel Holdings is increasing sales across their many sites.
Our client list continues to grow. Just last week, in fact, we announced a deal with First United Services Credit Union. As we spend time with new partnerships, we'll add more stories to showcase how other companies are using Fonolo to improve the customer experience.
Engaging Content for Call Center Professionals
We encourage you to spend some time on our new Resources page. We're serving up several thought-provoking whitepapers, informative datasheets, archived webinars – free! Of course, our demos are available 24/7 for you to try directly on the site.
Affordability
With all these new changes, what remained consistent is our clear and easy to understand pricing chart. There's a package for companies of any size.
There's something for everyone, whether you're ready for a free trial or just want to know more about our awesome team.  There's always an open invitation for you to follow us on @Fonolo for real time updates, content sharing or just to say hi.
"In the past year, we've seen growing momentum in the industry towards solutions like ours and we're proud to be part of that progress.
 Our first goal with the new site was to showcase our recent deployments and show how Fonolo is helping real companies deliver a better call center experience. 
Our second goal was to continue our role as thought leaders on the future of the call center. We've added new content to the resource section and we are renewing a commitment to offer fresh, insightful, non-commercial content through our blog, webinars and whitepapers."
– Shai Berger, CEO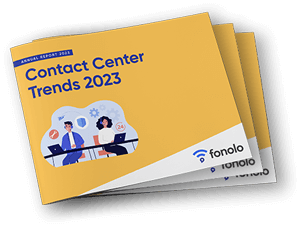 Trend Alert! Contact Center Industry Predictions for 2023
This report offers perspective on where the contact center industry stands today, plus our trend predictions for 2023.