Are you still putting your callers on hold?
Here's some bad news: They hate it. They'll leave you for it. And they'll tell the whole world in the process.
Here's some good news: Virtual queuing eliminates hold time and there are a growing number of ways you can add it to your call center.
Most major call center vendors now offer a virtual hold competitor add-on to their product. For example, Avaya offers Callback Assist and Cisco offers Courtesy Callback. There are also vendor-independent options. Virtual Hold, a pioneer in the field, offers Conversation Bridge and Fonolo offers Voice Call-Backs. Fonolo's offering has the distinction of being the only cloud-based offering (which also gives it the lowest cost).
If you're considering virtual queuing for your call center, tune in to this week's webinar (register here) where we'll discuss the pros and cons of these options. Continue reading to preview the webinar slides and download our new In-Call Rescue datasheet.
Some Background
Today Fonolo is mostly known for its innovative approach to adding a visual interface to the call center. Companies of all sizes have improved the call center experience by adding our widget to their website or mobile app. We're recognized as leaders in Web Call-Backs (formerly Visual IVR), replacing the old "press 1 for this, press 2 for that" with a more powerful and intuitive process. We were the first to offer a fully cloud-based solution that combined Web Call-Backs, pre-call questions, virtual queuing and post-call surveys.
Our web and mobile interfaces make it very easy to add virtual queuing (offering your caller a call-back from the next available agent). Furthermore, we've learned over the years that having a visual interface makes virtual queuing work much better because it gives callers continuous feedback.
However, there are many callers that still dial-in directly to the call center, which means they can't take advantage of this improved experience. That's where Voice Call-Backs comes in.
Fonolo's In-Call Rescue
Voice Call-Backs extends the Fonolo experience to customers who call your company directly (as opposed to starting on the website or mobile app). When hold times are too long, your customers are offered the option to "press [1] to receive a call-back when the next agent is available." Fonolo handles the rest. All your existing processes (e.g. CTI, screen-pops) will work as before.
The idea of virtual queuing has been around for a long time, but Fonolo has revolutionized it by offering it as a cloud-based service. This means:
Faster deployment
Lower costs
Easier configuration
Better scalability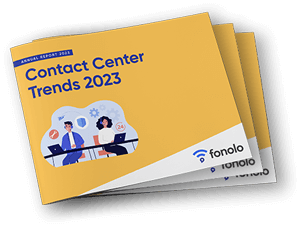 Trend Alert! Contact Center Industry Predictions for 2023
This report offers perspective on where the contact center industry stands today, plus our trend predictions for 2023.