What do contact center and customer service executives consider when trying to improve the overall performance of their call center? Leaders in this space are open to ideas that would give them a competitive advantage but budget restrictions and on-premise infrastructure can prevent them from taking that much needed first step.
There are simple ways to reboot your gloomy call center. Offering the best customer service isn't rocket science – it boils down to employee productivity, customer loyalty and customer perception (not in any specific order).
Turn Employees Into Super Heroes
Providing your employees with the tools they need to do their job enables them to focus on your customers. When call center agents are tasked with RE-collecting information your IVR supposedly captures, time efficiency is thrown out the window and the process further frustrates annoyed callers.
No matter how you dissect the 'stellar customer service' formula, your call center agents are your biggest asset – and quite often sent to battle in a minefield of irate callers. Prepare your agents with the information they need to resolve calls faster. In other words, turn them into the hero, not the villain.
Treat Customers Like Human Beings
Every customer is a person first, customer second, and they all have varying emotions and experiences. – Richard Shapiro.
As an executive in the call center space, you're not exempt from the horrid IVR experience.  You're a consumer, just like everyone else and everyone's time is precious. Your desire to be treated with respect is no different from your callers. Do you enjoy waiting on hold? Probably not. If you had the option to save time and schedule a call-back, wouldn't you? We think you would.
You have it within your power to make a difference and increase customer loyalty – learn how.
Brand Perception
Times have changed. Word of mouth was (and still is) one of the best endorsements for a brand. While these conversations typically happened over drinks, dinner, at the gym, etc., the landscape has changed to that of social media.
We live in a technology-driven society. Ignoring social media would be doing a disservice to your brand. While you can't control what people say about your company, you can be proactive with sCRM. It's time to turn customer frustration into customer appreciation.
To the right is a screenshot of actual tweets posted by frustrated customers who were #onholdwith. Curious to see what people are saying about your brand? Go check it out and see how you're doing:  onholdwith.com*
*#onholdwith is a Fonolo side project that provides consumers with a platform to post and discuss their frustrations.  It catalogs complaints about waiting on hold with the #onholdwith hashtag, makes them publicly available, and alerts companies when there are problems with their hold times.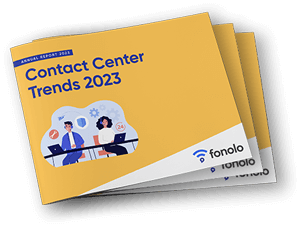 Trend Alert! Contact Center Industry Predictions for 2023
This report offers perspective on where the contact center industry stands today, plus our trend predictions for 2023.