It's webinar day!!
This afternoon at 2pm ET, Fonolo will be hosting a free webinar on You Can't Afford to Put Your Callers on Hold. You don't want to miss this highly anticipated event.
Waiting on hold sucks. Putting callers on hold hurts customer satisfaction and raises costs.
The obvious alternative to waiting on hold is this: If no agent is immediately available, the company should offer to call back the customer when an agent is ready.
This webinar is now available on-demand, see below for details.
"You Can't Afford to Put Callers on Hold" garnered record pre-registration numbers and the activity throughout the event was fabulous.
Here are some of the questions asked from our attendees:
Is scheduled call-back dependent on the ACD functionality?
Once the call back is made, does Fonolo hand control back to the initiating ACD or web application? Or does Fonolo maintain control?
Will call the handle time show the duration in the virtual queue?
How does Fonolo handle toll-free costs?
Does the caller maintain their place in line or are they connected when an agent becomes available?
Here's what we covered:
Putting callers on hold is a lose-lose proposition. With every minute spent on hold, your customer gets more frustrated while your call center wastes money keeping that phone line open.
Social media has added a new sense of urgency to this problem. Consumers are social sharing real-time co
mplaints that will ultimately drag down your brand's reputation.
Learn why the best way to eliminate hold-times is to offer a call-back.
We talked about: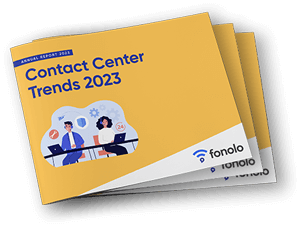 Trend Alert! Contact Center Industry Predictions for 2023
This report offers perspective on where the contact center industry stands today, plus our trend predictions for 2023.