Recently, an anonymous question was posted on Quora asking, "Why isn't Web Call-Backs (formerly Visual IVR) more prevalent?" Meanwhile, a similar debate is taking place on a Linked-In discussion group. I posted brief comments on both sites, but didn't want to monopolize the message boards with my thinking, so I opted to monopolize our Fonolo blog so I could share my thoughts with everyone who might be interested.
The idea of Web Call-Backs is to replace the traditional audio-based phone menu "press 1 for this, press 2 for that …" with a visual interface on the web or smartphone. Given the near universal disdain for the IVR experience and ubiquity of the web and smartphones, this certainly seems like an idea whose time has come. So why hasn't it taken the world by storm.
The good thing about the term "Web Call-Backs/Visual IVR" is that it does a pretty good job at conveying the basic concept. Anyone who knows what an IVR is immediate grasps the idea. Kind of like "horseless buggy". (Although, you do have to ignore the oxymoron hidden in the acronym: If you make your "interactive voice response" visual, then there's really no "voice" involved anymore!)
The problem with "Web Call-Backs", and the reason we don't use it as much when talking about Fonolo, is that it oversimplifies the problem. Or, rather, it describes a partial solution to the problem.
Simple vs Sophisticated IVRs
In the case of a simple IVR, where the caller only needs to choose from a few options to connect to an agent, Web Call-Backs is a straightforward translation from one medium to another. But here's the catch: None of the "important" call centers have such simple systems.
My definition of "important" is the kind of call centers that dominate the consumer experience: airlines, banks, insurance companies, telcos, ISPs, etc. Such organizations all have sophisticated systems where the IVR prompts for information (e.g. member ID, account number) prior to putting you in the queue for an agent. Furthermore, the menu options might change based on the info you enter, or based on your caller ID, or time of day, or location. You get the picture.
Web Call-Backs are a good start
What's really needed is an intelligent front-end to the call center experience. That front-end needs to include basic navigation (sales vs billing) as well as identification (member ID, PIN, etc.) and other information gathering (reservation code, reference number, etc). It also makes sense to take advantage of any context that has already been established by the user. For example, if you've already logged-in on the website, you shouldn't have to re-authenticate to the IVR.
As you can see, "Web Call-Backs" describes only part of the solution. In my mind, it was always a kind of "stop-gap" concept on the path to a full solution. Web Call-Backs hasn't gone away but has become part of a larger idea.
We're getting there
So back to the original question: Why hasn't Web Call-Backs taken the world by storm?
Well, the intelligent interface described above clearly needs to be coordinated with the company's customer service workflow. That's harder than it seems to be because of the proprietary and messy nature of call center software. (As well as some cultural issues with the call center industry.) But the good news is, we're getting there. Already there are some great examples that illustrate all the points above.
Lots of solutions coming to market
Solutions are being promoted today by all the major call center vendors (Avaya has Callback Assist, Cisco has Courtesy Callback, Genesys has Mobile Engagement, Interactive Intelligence has Interaction Mobilizer) and by independents like Fonolo and Virtual Hold. Fonolo has the distinction of being the only cloud-based offering, which means simplified integration and SaaS-style pricing. I compared some of these in a recent blog post and I assembled demo videos from each in another post.
With all this momentum, I can safely predict that within 5 years, intelligent visual interfaces will be the norm for major call centers rather than the exception.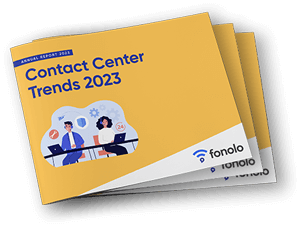 Trend Alert! Contact Center Industry Predictions for 2023
This report offers perspective on where the contact center industry stands today, plus our trend predictions for 2023.