With the realm of social media options, chat platforms, online meetings, and more – we've yet to see something as intuitive and interactive as a Google Hangout.
Google+ Hangouts is a free video chat service.  In addition to one-on-one chats, it also focuses on "face-to-face-to-face" group interactions where speakers have the ability to "Hangout on Air", and publish a live video broadcast online.
There are two ways you can participate in a Hangout:
Speaker – Initiate the conversation and invite people to watch as you engage in a live stream within your group.
Viewer – Watch a live hangout on air (#HOA) by visiting a predetermined web page.
Watching a LIVE hangout will direct viewers to one of three destinations – Google+ Profile, YouTube channel or a website.  For example, Fonolo is hosting a Hangout titled, "What does 2013 hold for the call center and customer service industry?" – this will be streaming live from our YouTube Channel.
Encourage your invitees to:
Subscribe to your channel.
Book their calendars – in our case, November 29th @2pm ET
Prepare questions and post to your customized hashtag #cctrtrends
Video:  Here's are great video related to on-air broadcasting.
Infographic: This interesting infographic, 'The Alive Web', outlines the dynamics between Facebook chat and Google Hangout.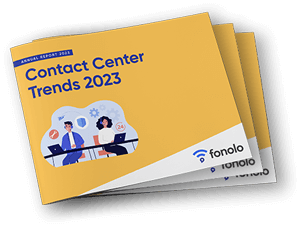 Trend Alert! Contact Center Industry Predictions for 2023
This report offers perspective on where the contact center industry stands today, plus our trend predictions for 2023.