At the end of 2012, Fonolo hosted a Google Hangout with industry experts to discuss upcoming call center trends for 2013. This fabulous panel was eager to share their expertise and thoughts on 5 hot topics to watch for; cloud-based call centers, mobile customer service, social media, Web Call-Backs (formerly Visual IVR), and virtual queuing.
The discussion, at times, was heated and while we went over our expected time allowance, the content and conversation is intriguing. To save you some time, we extracted key takeaways from each trend to help prepare your customer service strategy.
Let's take a quick look at the panelist introductions:
Dan Miller, Dave Michels, Jon Arnold and Shai Berger.
Cloud-Based Call Centers
One of the biggest trends in the call center industry is the move to the cloud. The cloud offers many benefits such as, predictable pricing, less reliability on IT staff and faster upgrades – but what's the vital challenge on call centers moving to the cloud?
Dave Michels believes most of the growth in the contact center market will be towards the cloud. He stresses that the cloud offers unique features to small businesses that would not normally be attainable due to the high costs that accompany on-premise solutions. This discussion evolves to a vendor standpoint and how most companies leading the way with on-premise call center solutions, are actually lagging behind in the cloud space.
Mobile Customer Service
The biggest part of our discussion was surrounding mobile customer service. Is this the year that we will see significant progress in this medium for customer service and what are the main barriers for adoption?
Ovum research stated that 'more than 50% of inbound customer service calls, across eight countries, will be made from mobile devices by 2016'. In addition, a report by Dan Miller, Senior Analyst & Founder at Opus Research, states, 'mobile customer care can be a win-win on both sides if properly executed'.
Dan said it best in my favorite quote from this segment:
"Handling and providing a better mobile customer experience is unavoidable and totally necessary."
The Role of Social Media
How much do you hate calling a 1-800 number? The fact is, today's generation, often referred to as 'millennial', are more likely to flock to social media sites and complain than pick up the phone. Sites like onholdwith.com prove this to be true – a website that captures live tweets from people waiting on hold and alerts the offending companies.
However, a report by Aberdeen states 'that more than 40.4% of respondents said their organization is not planning to use Twitter as a customer access channel'. On the flip side, CRMsearch.com says that 'by 2013 at least 35% of contact centers would introduce some form of social media as a part of their core CRM system'.
Ultimately, consumers and businesses are both left to wonder, how much does social service matter?
Web Call-Backs 
Interactive Voice Response might be our worst enemy, but what's the alternative? The idea behind Web Call-Backs (formerly Visual IVR) is to replace the traditional audio-based phone menu with a visual interface on the web or mobile device.
Do better self-service options make Web Call-Backs more relevant? In that same notion, we can't help but wonder how generational differences and preferences will influence what the future holds for Web Call-Backs.
Virtual Queuing
Virtual Queuing – a term often referenced, but not always understood. Simply put, virtual queuing removes the pain of physically waiting on hold, by virtually waiting, so that an agent can call you back when someone is actually free to chat.  Ultimately, virtual queuing eliminates hold time and there are a growing number of ways you can add it to your call center.
Listen to how the experts discuss this term from the perspective of the call center and the consumer.
Wrap Up
The advancements in technology tools and channels are ultimately changing how we buy. It's no surprise that the cloud, mobile customer service, and social media were the most interactive segments throughout this hangout. We can only expect this technology to continue to evolve and transform how we think, buy and act.
This live conversation wraps up with a great quote from Dave Michels, Telecommunications Enthusiast, TalkingPointz….
"We've mastered the call center from a technology perspective, we just haven't figured out customer service".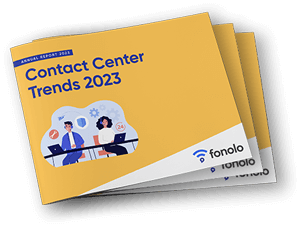 Trend Alert! Contact Center Industry Predictions for 2023
This report offers perspective on where the contact center industry stands today, plus our trend predictions for 2023.