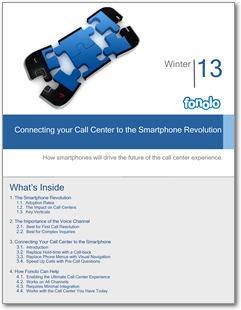 In a few short years, the smartphone has revolutionized the way we communicate. This transition impacts customer service in two ways: 1) An increasing number of companies have released mobile apps as an extension of their customer service and 2) More and more consumers use a smartphone when calling a call center.
We've written quite a bit on this topic over the past few months:
Now we've pulled together all our latest thinking, sprinkled in some new stats, and released an updated whitepaper on smartphones, customer service and call centers.
If you've been a following those posts, or if you enjoyed last year's smartphone whitepaper, or if you are at all involved in planning for your call center's future, this is a document worth downloading. It discusses: smartphone adoption rates, the impact on call centers in different verticals, and — most importantly — how your call center can use this revolution to improve your customer service and lower call center costs.
Download it for free now, or read more below…
Smartphone growth has been astounding
As of March 2012, the majority of mobile phones in the US are now smartphones. The adoption rate over the last few years has been unprecedented for any consumer technology.
In fact, mobile devices will soon be the dominant way that the world accesses the internet.
Call Centers Need to Adapt
One result of this growth is that the smartphone is becoming the first choice for communication, beating out land lines, desktop computers and notebooks (especially true among younger consumers). Just look at the growth of mobile online commerce in one year:
Delivering a first-class experience on the smartphone can mean the difference between keeping or losing a customer.
Finance, job listings and classifieds are among the verticals seeing the fastest growth. Download the whitepaper for further detail.
You MUST get the Voice Channel Right
You might think the importance of plain ole' phone calls with an agent is fading. After all, if everyone's using email, chat, Twitter and Facebook, you might guess they're less interested in calling. Think again. While these new channels have a significant impact, the phone call is still the most important channel when it comes to customer satisfaction.
In a recent study by Ovum, several thousand people were asked the question, "When reaching out to customer service, through which channels have you had the most success resolving your issue on the first attempt?" This question is essentially asking which channel is best at delivering "first call resolution", a common call center performance metric. As you can see the results are dramatic:
Even for respondents under 30, the so-called "millenials", a live voice conversation is still perceived to have better odds of solving a problem than any other channel.
Teaching the Call Center New Tricks
How do you connect your call center to the smartphone revolution? The key is to use your mobile app as an IVI (intelligent visual interface) to your call center. This interface interface can remove burden from your agents and frustration from your callers.
Eliminate Hold Time: Replacing hold-time with a call-back reduces telco costs and caller frustration.
Reduce Misnavigation: Using a visual interface to present calling options eliminates "zero-outs" and gets callers connected to the right agent.
Lower Handle Time: Collecting relevant customer information before the conversation leads to faster call resolution.
Where Fonolo Fits In
The last  section of the whitepaper covers the Fonolo approach. Fonolo is not the only way to add this kind of functionality to your call center, but it is the easiest to deploy and most cost-effective.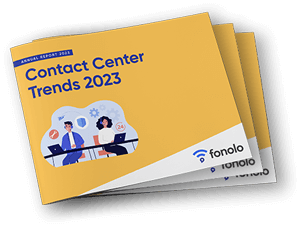 Trend Alert! Contact Center Industry Predictions for 2023
This report offers perspective on where the contact center industry stands today, plus our trend predictions for 2023.