It's no surprise that customers will ditch a company when their service is not up to par. Yet, 'three in ten (29%) consumers think that 'businesses' attitudes towards customer service have not changed'. Today, positive experiences are even more crucial. Through social media channels, disgruntled customers have immediate access to spread the word about poor service.
How can you provide better support experiences? Understanding the trends that are affecting your call center is a great place to start. Decision makers strive to spend time and resources in the right place. It's vital that your business strategies have a positive effect on customer care, customer loyalty and business processes.
William Davidow said it best,
The longer you wait, the harder it is to provide outstanding customer service.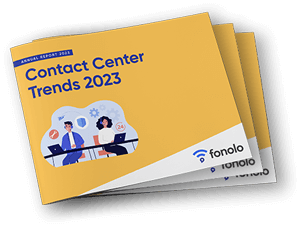 Trend Alert! Contact Center Industry Predictions for 2023
This report offers perspective on where the contact center industry stands today, plus our trend predictions for 2023.