Customer service has never been as exciting or quickly changing as it is today. New technologies, empowered consumers, and a difficult economic climate are creating new opportunities and challenges for organizations.
Businesses recognize its importance. According to Forrester, 90% of customer service decision makers think that good service is critical to their company's success, and 56% use it to create a competitive advantage.
The following list of customer service trends will help shape your support strategy in the coming year and beyond.
1.  Rising Customer Expectations 

Customers are more demanding and likely to switch companies over poor customer service than ever before. The gap between what they expect and what they receive continues to grow, with only 26% agreeing that call centers provide excellent customer service. 
The challenge for businesses is how to create better customer service experiences to narrow the gap, while under so much pressure to control costs and maximize profits. Leaders such as Apple, Zappos, and Amazon are living proof that not cutting customer service costs can really pay off.
2.  Social Media – Early Warning System\
Companies that ignore social media are playing a dangerous game, but thankfully, most are catching on. According to new research conducted by Stanford University, 90% of executives understand the impact social media has on their organization, yet only 32% monitor it [social media] to detect threats to their business.
While social media isn't always the best place to resolve an issue, it is a great proactive channel to identify customer service problems before they spiral out of control. Many customers immediately flock to Twitter to complain about a company regarding bad support experience – we can expect more companies to use Twitter as problem detection/resolution platform.
3.  Vendor Consolidation 
Customer service companies, especially those with cloud or social media capabilities, will continue to be snapped up by industry leaders seeking to grow their product functionality.The customers of these major players benefit from consolidation by not having to integrate multiple products on their own, and dealing with different vendor contracts.
The last few years have seen some juicy deals in the space and you can expect more in 2013. Some examples:

Other notable deals include Oracle's acquisitions of Collective Intellect and Inquira, Pegasystems' acquisition of Chordiant for $161.5M, and Salesforce's acquisition of Assistly for $50M.
4.  Speed Is King
One in three of us feel we have less free time than our parents did, according to a recent survey conducted by Persuadable Research Corporation.Some of the results from that survey indicate that we feel a time crunch because of higher living costs, longer work hours, family responsibilities, and commuting time.
Its no surprise that customers find speed of service more important now, regardless of whether they are on the phone, web, or at the service location:
Companies should make fast and efficient service a priority – it reduces the chances of your customers getting annoyed and abandoning the service process, or worse yet, switching to a competitor.
5.  Customer Power Shift
Customers have access to more knowledge about companies than ever before, and knowledge is power. Social media, online customer reviews, message forums, and the power of Internet search are tipping the balance of power away from the corporation and in the favor of the customer, where it belongs.
Customers are smarter and resourceful. Slick branding, marketing, and messaging are not enough to sustain customers. They have access to copious amounts of information at their fingertips.
Tricia Morris of Parature said it best, "The shift from CRM to VRM (where customers will choose and maintain their relationships with vendors on their own terms) will continue, as consumers and customers determine if, when and where they engage with brands."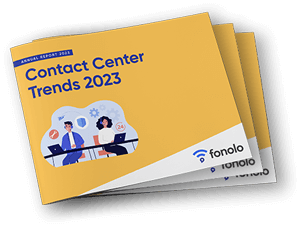 Trend Alert! Contact Center Industry Predictions for 2023
This report offers perspective on where the contact center industry stands today, plus our trend predictions for 2023.