Web 2.0 may have given consumers more control, but Forester states that it's "the access and convenience of mobile apps and devices that shifts more power from institutions to individuals than did the PC or the Web." Ultimately, the impact of the digital age has affected the influence of consumer power and will continue to ripple through in the future.
A whopping 91% of smartphone users keep their devices within arm's reach, 24/7, so it's no surprise that more consumers are exploring the capabilities with mobile apps. However, it's not just about having an app available, but ensuring it's created with the customer in mind.
Consumers prefer apps for many different reasons. Based on a Nuance report, their motives are as follows:
45% say it's more convenient
40% say it's always available
25% say I don't want to wait on hold to get help
20% say it's more personal
16% say I prefer not to talk to a person for some issues
The ability to please your consumer is even more prevalent for a service facing organization. Here are some facts your contact center should consider before offering a mobile experience to customers.

Mobile Statistics shows the number of apps downloaded and their consistent growth – we can only expect these numbers to climb. Smartphones have become a valuable asset in capitalizing on customer service. The question is, "what does your mobile customer have to say?"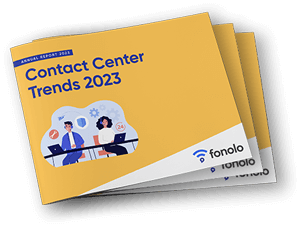 Trend Alert! Contact Center Industry Predictions for 2023
This report offers perspective on where the contact center industry stands today, plus our trend predictions for 2023.