As of March 2012, the majority of mobile phones in the US were smartphones. One result of this growth is that the smartphone is becoming the first choice for communication, beating out land lines, desktop computers and notebooks (especially true among younger consumers).
So we're left to wonder, how will smartphones drive the future of the call center experience?
Ovum stated that,
by 2016 36% of inbound customer service calls will be made from smartphones
This presents an opportunity for service leaders to drive their company's mobile strategy by creating or redesigning the smartphone experience. The benefits are endless – your organization is positioned as a thought leader, your customers enjoy the ultimate experience and your call center relishes in the new efficiencies.
In this one hour webinar, you'll learn how smartphones have impacted call centers, as well as how your organization can easily tap into and deploy new technologies to better serve your customers. You'll also hear from Mark Edelman, a top executive from a US credit union, who will talk about how his company seized the opportunity to offer a great customer service experience. Check out the preview slides for a sneak peek!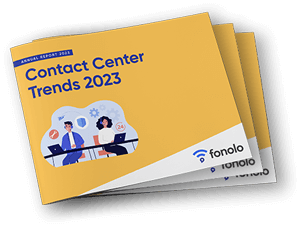 Trend Alert! Contact Center Industry Predictions for 2023
This report offers perspective on where the contact center industry stands today, plus our trend predictions for 2023.