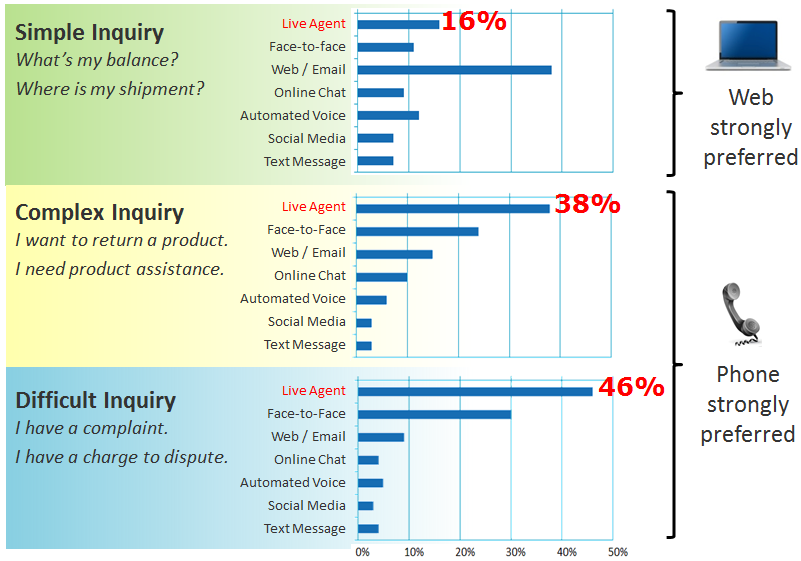 Contact center managers have a dizzying array of technologies to choose from today: speech analytics, mobile apps, chat, voice biometrics, virtual queuing, Web Call-Backs (formerly Visual IVR), etc. How do they prioritize what's best for their call center?
As a guiding principle, it's useful to remember that live conversations between your agents and customers have the biggest impact in determining customer satisfaction. As I've said many times on this blog: "The Voice Channel is King". (See here and here.)
Over the last year, I have presented data from several different surveys, in several different formats, to support this claim. But I think I've finally boiled it down to one chart that says it all about contact center technology.
Isn't the Future About Multi-Channel Customer Service?
Given the "multi-channel" future of customer service, you might think that the voice channel is losing its prominence. After all, if consumers are using email, chat, Twitter and Facebook, they must be less interested in calling, right?
Wrong. The voice channel is more important than ever.
To make this case, I will take data from the American Express Consumer Service Barometer, a report they published in 2012.
Like many other surveys, they asked consumers what channel they preferred when contacting a company. But what they did differently is to ask that question in the context of different scenarios.
Simple Inquiry
Let's start by looking at consumer preferences for dealing with a "Simple" inquiry, like "What's my balance?". The horizontal bars show the percentage of people who indicated that particular channel was their first choice. It's no surprise that the preferred channel is web or email. Only 16% said a live agent conversation was their first choice for those cases.
Complex Inquiry
Now look what happens if you switch to a more complicated issue like a product return. The appeal of a live agent conversation rockets to front place. In fact, the percentage of people who indicated 'Live Agent' was their first choice more than doubled.
The Big Picture
Finally, let's add in the third category: A "Difficult" inquiry. These are cases where there is a charge to dispute or a product complaint. Unsurprisingly, the preference for a live agent conversation is even more dominant. Here are all three scenarios put together so you see the big picture: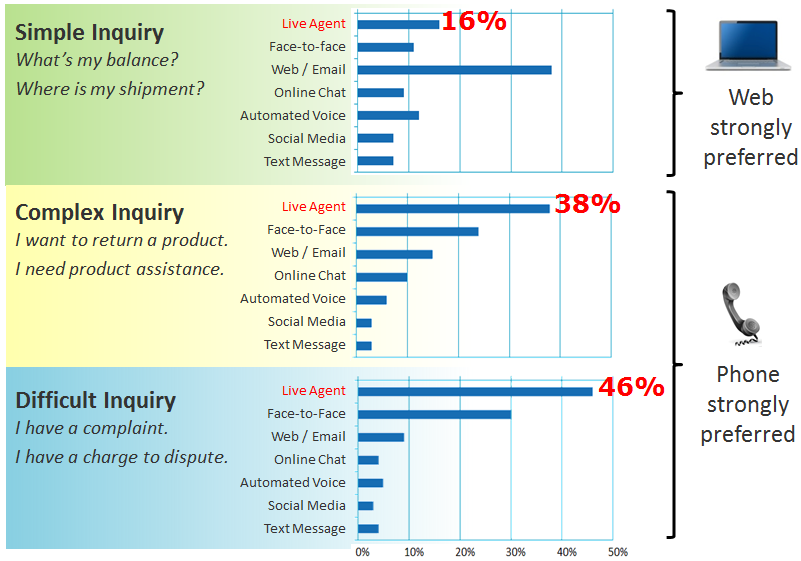 Conclusion
The take-away from this is straight-forward. While self-serve options have taken a lot of call volume away from your agents, the calls that do go to them are ones where it really counts. These are the calls where you can rescue a failing customer relationship or prevent a sale from being lost. That's why it's more important than ever to get your voice channel right.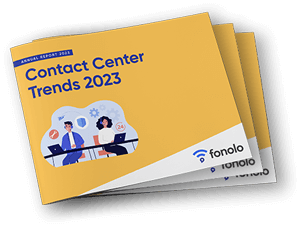 Trend Alert! Contact Center Industry Predictions for 2023
This report offers perspective on where the contact center industry stands today, plus our trend predictions for 2023.