It's an understatement to say social media is making an impact on customer loyalty. According to Sprout Social, 74% of consumers rely on social networks to guide purchase decisions. The effects are pervasive and difficult to track. Benefits include the opportunity to directly connect with consumers, while risks include brand damage and security perils. Companies cannot afford to entirely avoid social media.
Lessons From All Generations
The three generations making most purchasing decisions today are:
Baby Boomers
Generation X
Generation Y/Millennials
 Percentage of Consumers with Accounts on Social Sites
Source:  IBM Institute for Business Value Analysis. CRM Study 2011.
When discussing social media, there's a tendency to primarily focus on Generation Y consumers. Naturally so, since they're the first generation to grow up with an online social footprint—many from the day they were born.
But as Brian Solis describes in Social Media Today, it's likely more helpful and cost-effective to think of consumers in three other categories when considering how to focus customer loyalty efforts: traditional, online, and connected.
"Anyone who places increasing emphasis on technology as part of their daily routine—in many ways, their behavior mimics that of Millennials. And as a result, they prove elusive or immune to traditional marketing and service," he explains. "The connected consumer is the stranger you must get to know…. This group is not only growing, it's traversing demographics."
Because of this, customer loyalty building must go beyond analysis of generational preferences – it must consider tech and connectedness preferences as well. Building and maintaining customer loyalty has become even more of a multidimensional endeavor than before.
Companies must embrace this shift with a new strategy, notes global leader IBM. They must incorporate and apply social customer relationship management (CRM), which recognizes that "instead of managing customers, the role of the business is to facilitate collaborative experiences and dialogue that customers value." (Source: IBM – From Social Media to Social CRM)
Social Media and Your Brand
Never before has it been more complicated for businesses and organizations to maintain positive brand reputations. In a recent report, "How Does Social Media Contribute to Customer Experience? Let Us Count the Ways," Forrester Research highlights several publicly available case studies on how major brands are using social media, including:
The Men's Warehouse, which supports social media conversations about fashion, apparel, and men's lifestyles through its content on Facebook and Twitter;
Sheraton Hotels, offers an online  social community for guests to share travel tips, restaurant reviews, local finds, and stories about their stays at the hotel chain; and
Through a real-time interactive space and chat option, Wet Seal encourages their users to invite their friends to join them online as they shop.
The opportunities to improve and support your company's brand are many and increasing—but so are the risks. "Like the borderless nature of social media itself, the various risks surrounding social media can be borne by multiple enterprise functions at the same time," notes the Ernst & Young report, "Protecting and Strengthening Your Brand."
Legal, compliance, regulatory, operational, and public relations issues are at the top of the list of potential social media risk areas that can ultimately cause erosion of customers, market share, and revenue, notes Ernst & Young.
Source:  Ernst & Young
Ignore Social Media at Your Peril
Here's a powerful statistic: 71% of consumers are more likely to make purchases based on social media referrals, than without, according to HubSpot. You might be losing out on sales and business if your company doesn't have a social media presence.
The top two benefits of social media marketing are increasing exposure and traffic, says Social Media Examiner. About 58% of marketers who've been using social media for more than three years report it has helped them improve sales.
Your customers are talking about your brand, quite often in a negative manner. Ignoring social media can be detrimental to your brand's reputation. One of the most common complaints on social media: excessive hold times.  One need only look at a site like OnHoldWith.com to see customer complaints in real-time, via Twitter.
A key way to improve the experience for your customers on social media is to engage with them directly.  Fonolo – call-back software for the call center – offers an easy-to-use tool that allows you to escalate conversations over social media to a live voice call. While social media is a key channel to engage with your customers for easy-to-solve issues, nothing replaces the voice channel for more complicated transactions.
Don't miss out on:
How to win back your customers
Damage control for the call center
Best practices and tips to make your call center shine
Download the full report below.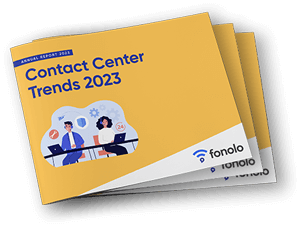 Trend Alert! Contact Center Industry Predictions for 2023
This report offers perspective on where the contact center industry stands today, plus our trend predictions for 2023.