Social media allows you to connect, engage and interact with customers like never before. It's clear that this new channel is not just a marketing tool, but one for customer service as well. However, many companies have yet to realize the importance of social media in the area of customer service.
A report by J.D. Power and Associates analyzed 100 companies across industries and 23,000 consumer responses. It concluded that "positive interactions between companies and consumers via social channels improved overall perception of a company and that this perception was correlated with increased likelihood of purchase". Ultimately, organizations need to engage with customers through this emerging channel so that they can ramp up their focus on the customer experience and maintain consumer loyalty.
With all the reports and whitepapers circulating the Internet we thought it would be helpful to compile a list of the most important facts from our favourite and highly credible resources – Aberdeen, CFI Group, Gartner, Nielsen, Zendesk, Hubspot and more. This eBook covers 25 powerful social media statistics for your call center to consider.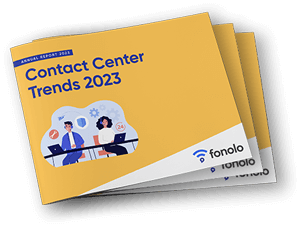 Trend Alert! Contact Center Industry Predictions for 2023
This report offers perspective on where the contact center industry stands today, plus our trend predictions for 2023.