The traditional call center is used as a central hub for consumers to call agents regarding support issues or service questions. In this case, brand perception would typically be altered by the level of support they received, how quickly their answers were resolved and how long they waited on hold.
Although the caller experience via phone support is still effecting brand perception today, other mediums are also coming in to play. Social media presents both a challenge and an opportunity for contact centers. The challenge: monitoring, maintaining and providing a consistent support experience through social platforms. The opportunity: surpassing customer expectations and creating an evangelist of your brand.
However, not all brands are utilizing social media and as a result, 56% of customer tweets to companies are being ignored. The stats also show that in 2010, 19% of consumers were sharing unsatisfactory experiences via social channels, a 50% increase over 2009. Investigating this further and using data from onholdwith.com, we can see that many of these tweets are from people waiting on hold.
Is your company on this chart?
Are you one of the organizations guilty of this crime? Shame on you if that's the case! This is a perfect example of how social media affects the perception of your brand. Twitter is largely used for people to complain and it gets worse when those tweets go unanswered. Onholdwith.com, a site that captures tweets from people complaining about long hold times, illustrates the worst offenders.  IRS had a whopping 178 tweets in the last two weeks alone! Other offenders of unruly hold times include @ComcastCares, @aircanada and @VerizonSupport.
According to, Echo Research and Fishburn Hedges, 65% of consumers who have communicated with companies through social networks believe this is a better way to interact with a company rather than through call centers. While multi-channel support is more in demand today than ever before, the most popular channel for service interaction continues to be voice support. In addition, approximately 35% of customer inquiries, which originated through other channels, eventually escalated to voice. The opposite occurs when phone service is not up to par, as customers resort to social channels to publicly complain.
What are you missing?
A key way to improve the social media experience for your customers – which ultimately affects brand perception – is to engage with them directly. Fonolo offers an easy-to-use tool that allows you to escalate conversations over social media, to a live voice call. While social media is a key channel to connect with your customers for easy-to-solve issues, nothing replaces the voice channel for more complicated transactions. If the customer needs to escalate from social to voice – what better way to perform this activity than by having the agent call the customer!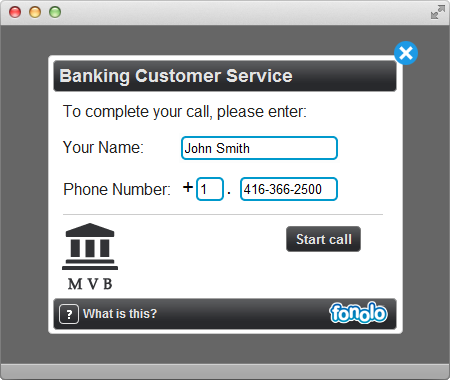 About onholdwith.com
This site provides consumers with a platform to post and discuss their aggravations. It catalogs and publishes tweets from people waiting on hold and alerts the offending company – ultimately giving consumers a voice. We're hoping the pressure will motivate companies to take necessary steps that will improve the call center experience.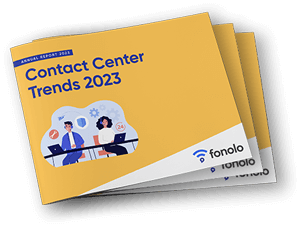 Trend Alert! Contact Center Industry Predictions for 2023
This report offers perspective on where the contact center industry stands today, plus our trend predictions for 2023.