Whether you call it "holding your place in the queue", "call-back software", or "virtual queuing", it means one thing: offering your customers an alternative to waiting on hold.
Study after study tells us that people hate waiting on hold, but most of us instinctively know this. We know long wait times result in high abandon rates, lost sales, increased handle times and, overall, angry customers.
We tell ourselves that in a perfect world, nobody would wait on hold and if we were going to re-build our call centers from scratch, we would implement all kinds of fancy new technologies to prevent this from happening. In a perfect world, every contact center would offer call-backs.
But we don't live in a perfect world. The reality is that most companies have a mix of call center technologies, legacy equipment and shrinking operational budgets. Management wants us to do "more with less", all the while telling us to consider "the future" … when social media support and smartphone apps will also be added to our plate.
Given all of this, it's no surprise that very few call centers offer call-back options. After all, adding this kind of functionality is expensive and complicated, right? That would mean capital investments, procedural changes and additional budget … or would it?
The future has never been brighter for call centers!
Today, it's possible to add virtual queuing capabilities to your call center with minimal effort. Solutions like Fonolo give your customers the option to "press 1 to get a call-back from the next available agent", regardless of your current infrastructure. All that's required are simple configuration changes – Fonolo handles the queuing and call-backs, giving your call center the ability to eliminate hold time, smooth out traffic spikes and reduce costs.
Fonolo isn't: legacy equipment, capital expenses, professional services engagements or complicated integration.
Fonolo is: call-back software for your call center, hosted in the cloud and supported, where necessary, by intelligent on-premise appliances. It's something you can actually try – to see if you like it – without a major commitment.
This is no longer a question – your call center NEEDS virtual queuing!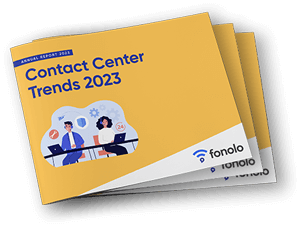 Trend Alert! Contact Center Industry Predictions for 2023
This report offers perspective on where the contact center industry stands today, plus our trend predictions for 2023.