When it comes to reducing hold-time in the call-center, there are a number of terms that overlap each other, which can be confusing. Let's try to clear things up.
Virtual Hold is trademarked by Virtual Hold Technology, and that name only refers to their product. People often ask if we offer "virtual hold" when they mean "virtual queuing".
In the Beginning
Let's start at the very beginning. In the days of the Garden of Eden, there were enough agents at every call center that no one ever had to wait. Of course, there were only two people in existence, so that wasn't very challenging. (Those two also got excellent cell coverage.)
In the real world, there will always be times when there are more callers than agents, even when companies have the best intentions. That's where "Virtual Queuing" comes in.
Virtual Queuing
Virtual Queuing is basically the "take-a-number" approach. In the real world, that means you can go sit down, relax, and wait for your turn to be announced over a loudspeaker. In the phone world, it means you can hang up, go about your day, and wait for the call-back.
Virtual Queuing describes any system where you can keep your place in line without having to stay on the phone.

Call-Backs
This term is easy to understand because it's part of our vocabulary for plain old person-to-person calls:
Hi. Can't talk right now. Call you back in 5?
When used for a "person-to-company" call, call-backs can take several forms, but what's common is that the direction of the call gets reversed. That is, you want to talk to Acme, but the call comes from Acme to your phone.
Virtual Queuing always involves some form of call-back.
Here's an important point:
Virtual queuing always requires a call-back, but the reverse is not true. That is, companies might offer call-backs, but you would still end-up waiting on hold after you answered the call.
Click-to-Call
You can characterize a call-back by how it was requested. You can dial-in and request a call-back by interacting with an IVR ("press 1 to get a call-back when an agent is ready"), or you can click a button on the company's website or mobile app.
Click-to-call is a web-triggered call-back.
Virtual Queuing or Virtual Hold: Options on the market
Virtual Hold pioneered the space, so people sometimes use the term "Virtual Hold" when talking about Virtual Queuing. But Virtual Hold is a trademark of Virtual Hold Technology and that term refers only to their product. People often call us and ask if we offer "virtual hold" when they mean "virtual queuing".
So let's say you've been tasked with reducing hold-time (aka "Average Speed to Answer" or ASA). If hiring more agents is not an option, then your only option is virtual queuing.
Every major call center vendor now has some virtual hold competitor. For example, Avaya has "Call-Back Assist", Cisco has "Courtesy Callback." All these virtual queuing solutions work in a similar way.
There are notable downsides to these offerings. They …
won't work in a multi-vendor environment,
probably won't work with an outsourced call center, and
require considerable effort to set-up and configure.
Where Fonolo Fits in
Fonolo's main innovation is offering virtual queuing as a cloud-based service. This brings with it vendor-independence, quicker deployment and lower cost. These competing virtual hold solutions all require on-premise deployment, which allows deeper integration, but with the trade-off of higher cost and complexity.
Fonolo is also very strong with multi-channel call-back. When we first launched our product, we focused exclusively on click-to-call and visual IVR for the web and mobile so we have deep experience and a very polished offering on that front. We added "Voice Call Backs" last year, for customers that dial-in directly, so now we cover all the bases.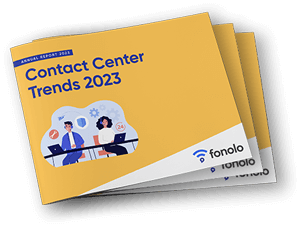 Trend Alert! Contact Center Industry Predictions for 2023
This report offers perspective on where the contact center industry stands today, plus our trend predictions for 2023.