Email, web self-service, chat, and other online channels now account for more than 30% of all customer service requests – so what does that mean for the call center? Fonolo is thrilled to be hosting today's Google Hangout on the future of multi-channel customer service.
Watch the conversation unfold as we hear from this amazing panel of contact center industry experts. You'll learn about stats, trends and tools affecting multichannel customer service! Plus gain answers to the questions lurking in your minds:
What is the long-term destiny of social media for the contact center?
Why are so few mobile apps smart about customer service?
Where does the voice channel come into play?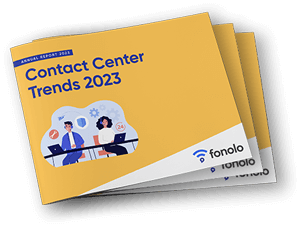 Trend Alert! Contact Center Industry Predictions for 2023
This report offers perspective on where the contact center industry stands today, plus our trend predictions for 2023.