I had high expectations for this year's Call Center Week Conference and I'm happy to say the show exceeded them on all fronts! Throughout the 3-day event, I had many delightful conversations with both attendees and vendors, which helped me get caught up on the latest industry trends.
But what really put a smile on my face was that everytime I dropped by the Fonolo booth it was surrounded by people eager to learn about our cloud-based call-back solutions. Even folks who just wanted one of our famous "Fonolo Crunches Call Center Costs" chocolate bars ended up staying to listen for a while. Who can blame them? The team was armed with great case studies showing how easy it is to replace hold-time with a call-back using Fonolo.
On Wednesday, I ran a break-out session where I gave a brief introduction to call-backs for the contact center and our family of products. You can see my slides below.
I then welcome Mark Edelman to the stage. Mark is in charge of the call center for a credit union that deployed Fonolo late last year. He shared the story of adding call-backs to the credit union's website, mobile app and voice channel. The audience was very engaged and Mark was kind enough to field lots of questions at the end. You can see his slides below.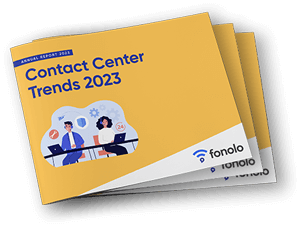 Trend Alert! Contact Center Industry Predictions for 2023
This report offers perspective on where the contact center industry stands today, plus our trend predictions for 2023.