Replace hold-time with a call-back!
Waiting on hold is a top complaint with the call center experience. If your company's average speed to answer (ASA) exceeds 30 seconds – even occasionally – then you're at risk of damaging customer satisfaction.
Fortunately, there's a straightforward solution to this problem: When hold times are too long, give callers the option to "press 1 to get a call-back from the next agent".
Your customers will appreciate you for giving them back what they value most – their time. According to Forrester,
The option to hold their place in queue and go on to do something else is highly appealing, with 75% stating a preference for it.
Need more incentive?
Recent research has found that adding a call-back option can reduce abandonment rates by 32%. Whether your call center is focused on service or sales, fewer abandoned calls translates into a healthier bottom line.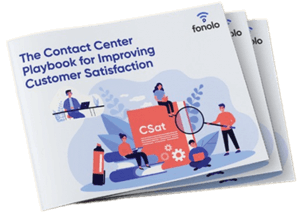 The Contact Center Playbook for Improving Customer Satisfaction
In this handy playbook, contact center leaders will learn the ins and outs of improving customer satisfaction.