Last week, Fonolo hosted a Google Hangout to discuss multi-channel customer service. This fabulous panel of industry experts was eager to share their expertise and thoughts on how call centers can cope in this digital era of multi-modal communications.
The discussion was full of insightful content from both a business and consumer standpoint. To save you some time, we've extracted video snippets from each topic. Questions and feedback were also posted to #multichannel.
Let's take a quick look at the panelist introductions: Ethan Francis from Genesys, Tobias Goebel from Voxeo, Andrew Maher from ServicePlease, Daniel Hong from [24]7 and Shai Berger from Fonolo.
Why are so few mobile apps smart about customer service?
Many metrics show how younger consumers are using their smartphones as the "first choice" device for communication. According to Ovum, by 2016, 36% of inbound customer service calls will be made from smartphones. But here's the reality check: most mobile apps are not smart at all when comes to the hand-off to the call center. Their "contact us" section only displays their phone number, so the customer is forced to enter into a regular phone call.
Daniel states that in the next 2-3 years there will be a big ramp-up in deployment in smart/connected mobile apps.
Tobias adds that part of the reason we're not seeing great services on mobile apps is a lack of knowledge.
Are 'Web Call-Backs' the solution or do we need a clean break from the past?
The IVR has been a gateway to the call center for decades now, but it remains a huge source of frustration. The heart of the problem is that the dial-pad standard was invented in the 50's and we've been locked-in to this awkward interface ever since. The idea of "Web Call-Backs" (formerly Visual IVR) has been proposed as the solution to this problem, but there's a feeling in the industry that this term is misleading.
Andrew starts off by saying that people generally hate IVR's – they've been around for so long and cause frustration. If Web Call-Backs just replicates the experience on the touchpad, it's failed.
Ethan adds that, in reality, the IVR is beneficial to the enterprise, not to consumers. Here, context is king.
Daniel's bottom line: make sure you enhance the customer experience in every channel.
What's the long term destiny for social media in the call center?
Of all the trends impacting the call center today, none have received more attention than social media. Gartner states that social media will be a standard customer service channel for 400 of the top 1000 companies by 2016.
In discussing Twitter and Facebook as customer service channels, Ethan says that unlike Twitter, with Facebook, you have a profile and would have enough information to get a call-back. It's incumbent on the company to reach out to you, not vice versa.
Shai argues that social channels are advantageous for consumers – companies are just investing because they don't want to look bad. They're being 'blackmailed' into responding.
What will be the impact of WebRTC on call centers and customer service in general?
Despite being relatively new, WebRTC has garnered a huge amount of attention. Many industry observers have proclaimed it the "next big thing" in communications, with the potential to displace everything from conference calls to call centers. As of November 2012, millions of Google Chrome users had WebRTC enabled on their browser.
Tobias starts off by saying that a lot of people today want to start on self-service – for them, the contact center is the last resort. And WebRTC has the potential to turn browsers into a phone.
Daniel adds that there's a lot more that has to happen before an impact is seen from WebRTC, but it's the golden path.
Where does the voice channel come into play?
According to Forrester, voice is still the most widely used channel, with a 73% utilization rate. This percentage has not changed in the last 3 years. Even in this digital era, the phone is still taking charge.
Andrew starts off by saying that "we" still like to talk. And these days, customers are sometimes more informed than the responder.
Shai adds that for newer generations, phone calls are the last resort. However, the calls that do come in represent more serious issues. So each of these conversations is make-or-break for companies.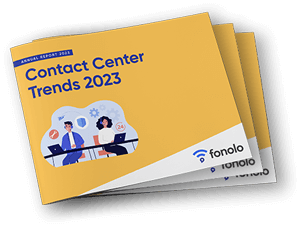 Trend Alert! Contact Center Industry Predictions for 2023
This report offers perspective on where the contact center industry stands today, plus our trend predictions for 2023.