3
It doesn't matter what kind of business you're in – improving the experience for your customers is the key to increasing sales, reducing churn, and improving customer loyalty.
However, not all companies have mastered this art. Ever wonder how one experience trumps the other? Here are 5 ways to improve the experience and ensure customer satisfaction!
1) Use the Right Channel
It might seem obvious, but providing a great experience means being where your customers are. Traditionally this has meant the call center, but since 77% of customers use more than one channel for service inquiries, it's key to have strategies in place for web, mobile and social media. Skilled organizations will also have an approach to seamlessly transfer the conversation from one channel to the next – when it's necessary.
2) Voice is Key
Though customers increasingly prefer online channels for service, nothing replaces a live conversation with a real person when the situation calls for it.
According to American Express, 16% consumers prefer the voice channel when it concerns a simple inquiry (compared to 38% who prefer web or email).  However, the preference for voice quickly jumps to 46% for more difficult inquiries.
One approach to improving customer experience, when escalating the conversation from online channels to voice, is to offer customers a call-back.  Fonolo's call-back solutions allow you to maintain the context of conversations, so agents are prepared with the exact information they need.
3) Resolve Calls the First Time
If you ask customers what frustrates them the most, nearly half (42%) will say, "having to speak with multiple agents and start over every time".
Resolving customer issues the first time is the single biggest way to improve customer satisfaction. Not surprisingly, it's also the key to reducing operating costs and improving agent satisfaction.
Having the correct CTI, CRM and technology tools in place are key to improving First Call Resolution (FCR).
4) Listen to Your Customers!  (By Capturing Their Feedback)
You can't improve what you don't measure. You have to capture customer feedback, so you can establish a baseline and measure the impact that changes have on the customer experience.
From making outbound calls to sample customers, to implementing automated tools like SMS, email and post-call IVR surveys, find out what customers have to say about you by getting their feedback.
5) Make Sure You're Measuring the Right ROI
At the end of the day, improving the customer experience can mean different things to different parties – even within the same organization.
ROI isn't always about cost reduction. Make sure you know which metrics matter the most:
Average Handle Time (AHT)
First Call Resolution (FCR)
Net Promoter Score (NPS)
Churn (according to callcentrehelper.com, 6/10 customers have ditched a company because its telephone customer service has been so bad …)
Improving the customer experience can have a dramatic effect on your bottom line. Happy customers are much more likely to purchase more, and share their experiences with others.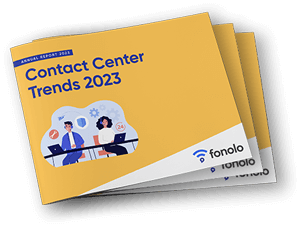 Trend Alert! Contact Center Industry Predictions for 2023
This report offers perspective on where the contact center industry stands today, plus our trend predictions for 2023.