Most organizations, regardless of size and sector, recognize that customer satisfaction is a priority. Effective call center solutions have become key elements in differentiating a competitive business strategy from one which focuses on a customer centricity model. Over 60% of a company's costs are found in the call center workforce and over 90% of customers will not choose your company if they were unsatisfied with the service.
Customer service is the most important part of a business because it needs to balance internal costs with tangible results. Therefore, it should be the most important topic on a company's agenda. If we're talking about the reduction of customer service costs, than one should take into account 6 important tips:
1. Make Use of Social Media Channels
It is extremely important to keep customers happy and the channels they use most. Online customer service must bring tangible business results, a strong brand identity and better customer service.
A study by A.T. Kearney uncovered the fact that of the top 50 brands, 56% did not answer the comments that appeared on their Facebook page and 71% ignored the complaints on Twitter. By comparison, 55% of consumers expected a response the same day, while only 29% actually received one. If you want happier customers and a reduction in customer service costs, then social media has to be used to its fullest.
2. Ensure the Well-Being of Your Customer Service Agents
Hiring new contact center staff has a direct reflect on costs. By optimizing your company's general HR policies, you can reduce the general turnover rate of agents and cut down on customer service costs. Here are some timely directions in this regard:
Enhancing the employment mechanism
Collecting feedback from agents
Providing coaching and career development programs
If you manage to value the staff you already have it will show through customer interactions, which leads to improved consumer retention.
3. Prepare Agents Effectively
A surefire way to reduce costs is to optimize the time invested in training agents, without neglecting the customer experience. This is possible if you give employees a functional knowledge base, covering all levels necessary for the ideal communication with clients.
4. Boost Agent Productivity
Customer service agents can be more productive if they use the right software solution for customer support, customized according to the clients' needs. You can dramatically reduce the volume of calls and emails from clients with a customized application. For this purpose, you have to choose the right tools which will get your organization one step ahead in the fight for profitability.
5. Provide Live Chat and FAQ Sections
Customers are a lot more determined to end a transaction if they receive the necessary help on-site. In this regard, FAQ and live chat are two settings that lead to business success. By providing a large FAQ base you're giving customers the chance to find answers to their questions immediately. The end result is a substantial amount of savings in the customer service department, all with the aid of simple technological means.
6. Promote Self Service
If you want customers to stay on your website for as long as possible, than you have to let them find the answers to their queries by themselves, rather than promoting the chat with a specialized agent.
After a live chat session, people might or might not want to buy your products, but if they find that item and all the necessary information related to it by themselves, then there's a higher chance for the transaction to be made. In this regard, you can successfully resort to step-by-step guidance systems such as WalkMe, which represents an essential part of a proper self-service strategy.
All in all, it's truly possible to offer your customers excellent service without requiring them to pay an over-the-edge cost. Most of these savings come from utilizing inexpensive or free tools, which can successfully replace the traditional contact means. An intelligent company will always adapt to the market's needs even before they arise.
Guest Blogger: Stefanie Amini
Stefanie Amini is the Marketing Director and Specialist in Customer Success at WalkMe, the world's first interactive online guidance system. She is chief writer and editor of I Want It Now, a blog for Customer Service Experts. Follow her @StefWalkMe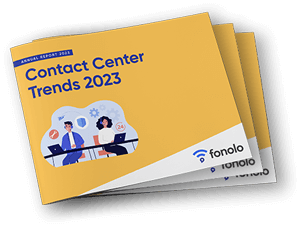 Trend Alert! Contact Center Industry Predictions for 2023
This report offers perspective on where the contact center industry stands today, plus our trend predictions for 2023.