What does "customer experience" actually mean? Simply explained, it's the interaction between an organization and a customer, measured through the customers' expectations across all points of contact. Customer experience boils down to how a customer feels after an interaction with your organization. Managing the customer experience from an enterprise-wide view can be a hard role, but the effort is worth the investment.
According to Forrester's Customer Experience Index, only 37% of brands received good or excellent customer experience scores in 2012. 64% of brands got a rating of "OK," "poor," or "very poor" from their customers.
Here are three prominent reasons why your organization should focus on improving the customer experience.
1) Driving Customer Loyalty
Consumers will spend more money with brands that deliver an experience above customer expectations. According to Forrester, organizations that offer a better customer experience have more customers who say they are willing to buy from them again.
2) Improving Customer Retention
The willingness to buy more from organizations that offer a better experience also has a direct correlation to customer retention. If customers enjoy the experience they will be less likely to switch to the competition. However, if the experience is poor 89% of consumers are likely to buy from your competition.
3) Facilitating Customer Acquisition
Forrester says that with a higher customer experience score, more customers are willing to recommend your company to a friend or colleague. People are more willing to buy from organizations that receive positive reviews. Firms will definitely see incremental sales from customers talking about positive experiences, especially with 58% of Americans researching products and services before they buy.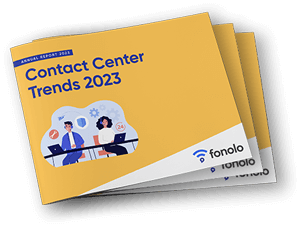 Trend Alert! Contact Center Industry Predictions for 2023
This report offers perspective on where the contact center industry stands today, plus our trend predictions for 2023.