Who do you hate calling the most?
For me, it's a close race between an airline company and a telecom one. Perhaps it's a matter of customer expectations. When comparing the two sectors in terms of cost, a flight can total at LEAST 5 months in cable/cell phone charges. Customers who are paying for a high ticket item naturally expect an above-average experience. So it only seems fitting that a poor service experience with an airline is all the more aggravating.
Although some airlines are making strategic moves to improve the customer experience, those that aren't will suffer immensely. And better customer experience for an airline can be worth millions in annual revenue!
Clearly, this industry sees a stronger than a normal correlation between customer experience and loyalty. Customers who have a positive experience won't take their business elsewhere and are likely to recommend you. On average, loyal customers are worth up to 10 times as much as their first purchase.
As a traveller, both business and personal, a variety of instances can occur that make or break the customer experience. Lost luggage, poor onboard service, delayed/cancelled flights, and my personal favorite, having to phone customer care. There's nothing more frustrating than waiting on hold with an airline company. I referenced onholdwith.com to source further hold time complaints. This chart captured tweeters complaining about lengthy hold times with airline companies in the last two weeks.
Airlines with the Most Complaints About Hold Time
Not surprisingly, two of the top three offenders, Delta and American Airlines, have experienced declining numbers in the American Customer Satisfaction Index. The problem of long hold times in the call center is no doubt a major issue. In fact, 75% of customers say it takes too long to reach an agent.
So if the number one goal for most customer-facing organizations is to improve the experience, why are consumers still being forced to wait on hold? We all know that call-back technology exists, so why aren't more airlines, or any service organization for that matter, utilizing it?
Forrester states that,
Contact center leaders face barriers that prevent their organizations from making better use of technology to improve their contact center capabilities.
One of the biggest barriers is cost, but the cost to deploy these features greatly outweighs the revenue you'll receive – even more so for airlines. To me, there's just no excuse. The airline industry will continue to destroy customer service if they don't improve the calling experience.
About onholdwith.com
This site provides consumers with a platform to post and discuss their aggravations. It catalogs and publishes tweets from people waiting on hold and alerts the offending company – ultimately giving consumers a voice. We're hoping the pressure will motivate companies to take necessary steps that will improve the call center experience.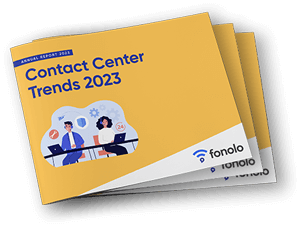 Trend Alert! Contact Center Industry Predictions for 2023
This report offers perspective on where the contact center industry stands today, plus our trend predictions for 2023.