Every contact center has the potential to deliver a great customer experience. An organization's ability to provide an experience that sets them apart in the market is the ultimate way to create a competitive advantage.
We all know that customers are the lifeblood of any business and unless their perception of your brand is optimal, your business will not succeed. Companies that focus on providing an outstanding customer service experience ultimately reap the benefits – more loyalty, better acquisition, increased spend.
What do Customer Service and Call Center Managers Need to Know?    
Simple, it boils down to the facts. What does your call center or customer service industry see in terms of statistics and numbers? More importantly, how can you take advantage of these metrics and set yourself above the rest? Here are 17 prevalent statistics affecting the customer experience in your service facing organization.
89% of consumers who experience poor service with your brand will leave for your competition
91% of customers said they would use an online knowledgebase if it were available and tailored to their needs. (Zendesk)
Live assistance has the highest satisfaction rate, with 69% of customers saying that their questions are fully addressed over the phone. (Forrester)
72% of consumers said they would replace traditional channels with mobile apps if the same customer service features were available. (ClickFox)
82% say that getting their issue resolved quickly is the number 1 factor to a great customer experience. (LivePerson)
45% of US consumers will abandon an online transaction if their questions or concerns are not addressed quickly. (Forrester)
Customer satisfaction is considered the most important call center metric by more than 60% of customer service managers. (Ovum)
26% of consumers have experienced being transferred from agent to agent without any resolution of their problem. (American Express)
70% of buying experiences are based on how the customer feels they are being treated. (McKinsey)
55% of customers would pay extra to guarantee better service. (Defaqto)
80% of companies want to use customer service/experience as a way to differentiate themselves from their competition. (Forrester)
84% of customers are frustrated when a representative does not have immediate access to account information. (Mobius Poll)
It takes 12 positive experiences to make up for one unresolved negative experience. (Understanding Customers by Ruby Newell-Legner)
Despite the rapid growth of online customer service tools, 79% of consumers would prefer to contact a customer service center over the telephone. (Nuance)
69% of customers said they were on hold for too long when seeking help from a company. (Haris Interactive)
75% of customers think the option of a call-back is "highly appealing". (Forrester)
32% of contact centers experienced fewer abandoned calls after call-backs were added. (ContactBabel)
Making Sense of the Numbers
A positive experience no doubt leads to better retention, increased customer acquisition and more revenue overall. However, when it comes to customer service technologies and the tools available today, it seems that there's always some sort of shortfall. Chat systems being offline, self-service not being easy to use, tweets having a long response time, mobile apps not having the right features; the list goes on. Given these shortcomings, consumers are encouraged to go back to the phone channel to seek service.
The easiest way to reach a representative, and sometimes the quickest way to get an answer, is by calling a contact center. However, the downfall is dealing with long hold times which ultimately ruin the customer experience. Offering a call-back to customers on hold not only improves customer perception but also reduces abandonment rates and lowers cost-per-call. This makes call-back solutions a win-win for any contact center.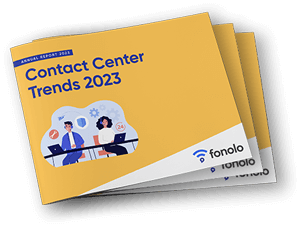 Trend Alert! Contact Center Industry Predictions for 2023
This report offers perspective on where the contact center industry stands today, plus our trend predictions for 2023.