If you want to keep up with the contact center industry, a vital resource is the analyst community. A year ago, we published our list of the top analysts who cover this space. Time for an update!
We have added four new people to the list: Dave Michels, Blair Pleasant, Tim Smith, and Paul Stockford.
We have removed two people, not because we don't like them (quite the opposite!), but because they have left the analyst game. Ian Jacobs is now at Genesys, and Daniel Hong is now 24/7.ai.
Here is the updated list, in alphabetical order.
Jon Arnold
Keith Dawson
Nancy Jamison
Drew Kraus
Irwin Lazar
Kate Leggett
Michael Maoz
Sheila McGee-Smith
Dave Michels
Dan Miller
Blair Pleasant
Art Schoeller
Tim Smith
Paul Stockford
Keep reading to see a short profile of each analyst. If you think we've forgotten anyone, please let us know in the comments.
---
Jon Arnold

Independent Industry Analyst
Focus: UC, Call Center, SIP, and VoIP
Web: JonArnold-analyst.blogspot.ca
Twitter: @arnoldjon
What customers really want is to communicate on their terms and come away feeling that the agent is on the same page. When agents have a full complement of UC tools to work with, they can put customers at ease right away, regardless of how they are getting in touch.
Recommended Reading:
---
Keith Dawson

Principal Analyst, Customer Interaction, Ovum
Focus: Contact Center Technologies and Customer Experience
Web: Ovum.com
Twitter: @keithdawson
Cisco asserts that it is making progress in its drive to overtake Avaya as the leading call routing vendor… shipping  more than 600 Contact Center Express deployments in the second quarter of FY2012–13…
Recommended Reading:
Voxeo Purchase Signals a More Competitive, Dynamic Aspect
An Agile Cisco is an Innovative Cisco
---
Nancy Jamison

Principal Analyst, Frost, and Sullivan
Focus: Contact Center, Speech Tech, and Social Media
Web: www.frost.com
Twitter: @nancyjami
What I consider to be "the holy grail of analytics": end-to-end reporting from the first contact with the customer, combined with real-time analytics, back office analytics, and customer history [used] to improve the customer experience.
Recommended Reading:
---
Drew Kraus

Research VP, Gartner
Focus: Contact Center Infrastructure and Cloud-Based Solutions
Web: www.gartner.com/AnalystBiography
In 2010, only 5% of organizations took advantage of social/collaborative customer action to improve service processes; however, customer demand and heightened business awareness is making this a top issue…
Recommended Reading:
---
Irwin Lazar
VP and Service Director, Nemertes Research
Focus: Unified Communications, Collaboration, Social Business, Contact Center, and Customer Engagement
Web: www.nemertes.com/analysts/irwin-lazar
Twitter: @imlazar
Today we communicate with our merchants via a variety of means – Facebook, Twitter, chat, maybe even video, in addition to voice… Harmonization between these isolated customer engagement … as new platforms continue to emerge ….including Moxie, Oracle's Right Now, and Salesforce.com's Service Cloud compet[ing] with the more traditional CRM vendors including Aspect, Avaya, Cisco, and Genesys.
Recommended Reading:
---
Kate Leggett

Principal Analyst, Forrester Research
Focus: Customer Service – Market Trends, Research, Opinions, Best Practices, and Technologies
Web: forrester.com/kate_leggett
Twitter: @kateleggett
Good customer service is the result of the right attention to strategy, business processes, technology, and people management… The contact center technology ecosystem for customer service is a nightmare of complexity.
Recommended Reading:
---
Michael Maoz

VP Research, Gartner
Focus: CRM, Multichannel Contact Center Applications, and Social CRM/Communities
Web: blogs.gartner.com/michael_maoz/
Twitter: @Gartner_inc
Call Centers ruled the '70s through 1990s, and Contact Centers have ruled ever since. Dinosaurs too ruled for a long time, and in the same way, Contact Centers are having their own asteroid collision theory now.
Recommended Reading:
---
Sheila McGee-Smith

President and Principal Analyst, McGee-Smith Analytics
Focus: Contact Center and Enterprise Communications Markets
Web: www.mcgeesmith.com
Twitter: @mcgeesmith
While Avaya telephony, unified communications and contact center applications all use Avaya Aura as a core platform, it has not always been easy to for either Avaya or third parties to build applications that cut across the silos of individual solutions. Avaya Collaboration Environment… promises to do just that.
Recommended Reading:
---
Dave Michels

President, Verge1 Consulting
Focus:  Cloud Services, SMB Voice, Channel Development, Unified Communications, and Social Media
Web: http://www.talkingpointz.com/pindropsoup
Twitter: @davemichels
Terms such as unified communications, PBX, HD, channel, are frequently used, yet there's little agreement on exact meaning. Of course, that doesn't make the terms any less popular – slight literary confusion and disorientation are the marks of a telecom professional.
Recommended Reading:
---
Dan Miller

Senior Analyst & Founder, Opus Research
Focus: Mobile Customer Care, Conversational Commerce, and Voice Biometrics
Web: OpusResearch.net
Twitter: @dnm54
Customers equate 'service quality' with quick resolution of their problems by a live agent. If they are put on hold, confronted with confusing options or delivered to an individual who is not up-to-speed with their requirements, they think less of your company and its brand.
Recommended Reading:
---
Blair Pleasant

Principal Analyst, Confusion
Focus: Unified Communications, Collaboration, Social Software, Unified Messaging, Contact Centers, CTI, IP Telephony, and Voice/Data
Web: http://www.commfusion.com
Twitter: @blairplez
 Genesys is in a period of transition, with new acquisitions and new service offerings. It has a lot of work to do to make everything come together and work seamlessly…. Fortunately it can gain momentum based on the Angel and Soundbite customer base and the expertise it acquired. The game is afoot.
---
Art Schoeller

Principal Analyst, Forrester Research
Focus: Unified Communications and Contact Center Technology
Web: Forrester.com
[UC deployments] fail because users can ignore you and you lose the benefits … You have to establish and [invest] in a change-management program.
Recommended Reading:
---
Tim Smith

Senior Research Analyst
Focus: Unified Communications, Contact Center, and Social Business
Web: https://www.nemertes.com/analysts/tim-smith

Another useful tool in contact management is the idea of the call-back. Rather than putting people on hold, let them schedule a call back at a pre-determined time. Good for the caller, good for the management of the contact center. A company called Fonolo offers a SaaS/cloud approach to call backs along with limited cross-channel capabilities.
Recommended Reading:
---
Paul Stockford

Owner, Saddletree Research
Focus: Contact center, Customer Relationship Management (CRM), and Social Media
Twitter: @paulstockford
The next generation of contact center industry leaders is ready to move up…  Cisco is ready to come out of the data closet.  Verint is finding its way into the enterprise at large through …acquisitions and innovations.  Aspect is firmly anchored in its rediscovered identity as a contact center solution provider.  And let's not overlook a growing group of cloud providers …  Avaya isn't out of the game yet, but it is going to have to undergo some significant changes if it is to remain competitive in a rapidly changing industry.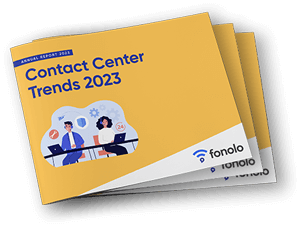 Trend Alert! Contact Center Industry Predictions for 2023
This report offers perspective on where the contact center industry stands today, plus our trend predictions for 2023.