We talk a lot about the importance of "Customer Experience", because it describes what your customers think of their interactions with your company. And nothing is more important than their opinion of you – your business depends on it.
So how will you know if the service you deliver is slipping, negatively affecting how customers perceive your brand?  Here are a few key symptoms to watch out for.
Your Customers are Complaining
Sure, it starts with a small volume – statistically insignificant, you might think, given the large volume of customer interactions you have.  But every complaint matters – here's why.
Customers that take the time to complain are giving you valuable feedback on the problems you can solve. They're the tip of the iceberg; for every customer that complains, there are many more who aren't and are taking their business elsewhere! According to Ruby Newell-Legner, a typical business only hears from 4% of its dissatisfied customers. Meaning, the ones who are complaining are actually doing you a favour.
Ensure that you have a corporate culture that encourages customer feedback – don't let complaints get lost at the call center. Give every complaint the weight it deserves.
Your Customers are Leaving
A sure sign that service levels are slipping is the loss of long-term customers – the ones who you have a long-standing relationship with. While every customer counts, long-term customers are often the most profitable, as well as evangelists for your brand.
Consider them the canary in the coal mine. Find out why they're leaving: Are you too focused on sales and dropping the ball on service? Treating new customers much differently and not rewarding the existing ones? Smart companies strive to understand why.
Here's a stat to keep in mind: according to RightNow, 89% of consumers began doing business with a competitor following a poor customer experience.
Your Employees aren't Happy
Customer service reps are the front line of your business.  You can bet that if they're not happy, your customers won't be happy either.
Employee satisfaction is a key metric to monitor. Low morale leads to poor customer service, frustrated customers and high agent turnover. However, when agents are empowered with the tools they need to resolve customer issues, it's a win-win for agents and customers alike.
If you would like to find out more about how to improve your customer experience, don't forget to download our free report below.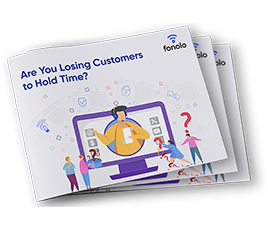 Are You Losing Customers to Hold Time?
Download our free whitepaper and learn about the best way to eliminate hold time and improve the customer experience.