Customer experience is an area of any business that needs constant nurturing and care. With a greater focus on the customer experience, companies are bound to realize a positive impact on customer loyalty. For that reason it must always be monitored and, more importantly, improved upon.
There are the typical strategies that organizations adopt when attempting to better the experience; create a clear customer-oriented vision, understand customer's needs, train agents to make customers feel special, invest in technology, etc. These are all great ideas, but improving the customer experience doesn't have to be a long sought out task. It can be quick, easy and, best of all, free.
Here are 3 free tools that can improve your customer experience strategy today.
Pure Chat is a live chat feature that can be added to any website. It's 100% free for unlimited operators and its hosted (SaaS), so no downloads are required. Live chat is a great way to offer a personalized service channel. This gives customers the option to talk with someone directly when browsing your site.
Video: How Pure Chat works.
Benefits:
Online chat gives customers immediate access to help and is a great way to get a quick answer to self-service. This also helps in site abandonment.
Wait times are typically less than having to phone a contact center. This is especially true when the call center doesn't offer a call-back option to improve the phone experience.
Do you know how your customers feel about your product or service? Capturing honest feedback is essential to an effective customer experience management program. Google Forms does just that! It offers users an easy way to conduct customer surveys at absolutely no charge. You can create any number of surveys and an unlimited number of people can participate. Responses are collected in a spreadsheet so you can easily analyze large data sets.
Video: How Google Forms works.  
Benefits:
Conducting customer satisfaction surveys provides the insights to creating and reinforcing a memorable customer experience.
HootSuite is a social media management system for organizations to collaboratively access social channels. The idea of managing multiple social networks under one shared interface means that your customers can enjoy a consistent experience. A tool like HootSuite also gives your team an insider's view to consumer perception. Simply track your brand as a keyword and see what consumers are saying.
Video: How HootSuite works.
Benefits:
Customers can enjoy a consistent social experience across all channels.
Customer service teams can monitor online customer comments giving them a chance to correct a bad situation and promote a positive one.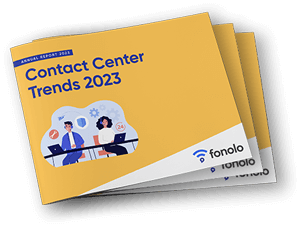 Trend Alert! Contact Center Industry Predictions for 2023
This report offers perspective on where the contact center industry stands today, plus our trend predictions for 2023.