Before you answer that – consider how much time consumers actually spend on hold. According to TalkTo, it's 13 hours a year; that's 43 days over the course of a lifetime. While I can't vouch for the accuracy of that statistic, I can say that I'm well past 13 hours this year, booking flights alone.
Customers Don't Want to Wait
It's safe to say that nobody likes waiting on hold. As consumers, we wait because have no choice … or do we?  A study from YouGov showed that 76% of respondents said: "just one unpleasant contact center experience was likely to make them take their business elsewhere". 6/10 customers have ditched a company because its telephone customer service has been so bad. And a study from Zendesk shows that 35% of customers stopped doing business with a company after a poor customer experience.
What's clear is that, given the opportunity, customers will choose companies that provide better phone-based customer service.
And They Want to Tell Everybody About Their Experience
This is good news if you're one of the companies that provide a good experience to callers. It's bad news if you're not. For better or for worse, more than 60% of consumers are influenced by other customers' comments about companies, according to Zendesk. And 52% tell their friends and family about a poor experience. [tweetthis tweet="More than 60% of consumers are influenced by other customers' comments about companies! #cctr" text="Tweet it"]
A great way to illustrate this point is to read the complaints on onholdwith.com, a site that collects tweets from people waiting on hold.  (You can watch it live.) Or have a read through our yearly list of the worst companies to call.
So Make it a Priority to Reduce Hold Time
Many companies look at customer service as a "cost center" – a function that adds expense without adding revenue; they don't see the ROI in providing a better experience. But the successful ones know the importance of maximizing every opportunity to interact with customers.
Zappos, legendary for its customer service, strives to answer 80% of its calls within 20 seconds. In his book, "Delivering Happiness", CEO Tony Hsieh says:
In early 2004 our biggest problem was customer service – specifically, finding the right employees to staff our call center. A lot of people may think it's strange that an internet company would be so focused on the telephone, when only about 5% of our sales happen by phone. But we've found that on average, our customers telephone us at least once at some point, and if we handle the call well, we have an opportunity to create an emotional impact and a lasting memory.

We receive thousands of phone calls and e-mails every day, and we view each one as an opportunity to build the Zappos brand into being about the very best customer service. Our philosophy has been that most of the money we might ordinarily have spent on advertising should be invested in customer service, so that our customers will do the marketing for us through word of mouth.
One easy way to improve the call-center experience is to replace hold-time with a call-back, using a solution like Fonolo. This gives callers the option to "press 1 to get a call-back from the next agent", rather than wait on hold.
Let me close with a quote from Adam Hanft, in a blog post from FastCompany:
Your 800 number is the front line of brand building. Yet I'm continually stunned by how little attention the critical world of customer service receives from senior management. And how much of that attention is spent on how to take costs out, how to get people off the phone faster, how to hide your number on your website so people won't call.

Customer service needs to be reinvented for a world where consumers are demanding more, where comparisons happen in real time, where loyalty is fleeting and there's diminishing friction in changing brands. Customer service is where social starts.

My proposal for 2013 is that every CEO and CMO spend an hour a week listening in on some of their customer service calls. The result would be eye-opening–and a revolution in customer service, I assure you.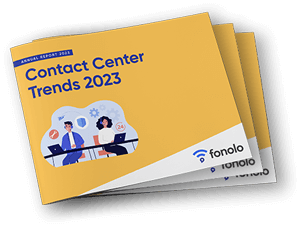 Trend Alert! Contact Center Industry Predictions for 2023
This report offers perspective on where the contact center industry stands today, plus our trend predictions for 2023.