The use of text-based chat for customer service has exploded in recent years. According to a recent report from Forrester, its use increased 43% between 2009 and 2012. Contact centers are drawn to live chat because a single agent can handle multiple simultaneous chats, as opposed to only one simultaneous voice call (which leads to lower average cost-per-call or cost-per-contact).
Another reason live chat has been so popular is that it aligns well with the new communication habits of consumers, especially younger ones. In terms of new channels for customer service, the rise of live chat can really be seen as a parallel to the rising popularity of social media.  Both are text-based and asynchronous modes of interaction. Chat is private and one-to-one, while Twitter and Facebook are public and one-to-many.
Here's where things get interesting: Chat interactions are easily shared via social media. (It's easier to capture and post a text conversation than, say, a phone call.) Thus the world can see examples of chat-based customer service at its best and worst. Hopefully, the industry can learn from this increased transparency (as well as get some chuckles along the way).
Live Chat, at its Worst
The launch of the Affordable Healthcare Act (ACA) – otherwise known as ObamaCare — this month meant that the American public got access to new online "Healthcare Exchanges". At least in theory the public got access. In reality, the site was marred by widely reported glitches and flaws. The site offered chat-based support, but that channel fell far short of the mark, as shown in the example below obtained by Slate magazine.
As you can see, this is chat support at its absolute worst.
The customer had to wait over 20 minutes for an agent. If an agent isn't available, you should disable the chat option on your website.
The agent identified himself as "PGSTX0534". This is clearly not going to help create a rapport  between agent and customer. There are always security concerns when it comes to healthcare data, but at least allow the agent to give a first name (even if it's a false name!).
Canned responses. The first meaningful response from the agent is clearly pre-written boilerplate. This defeats the purpose of interacting with an live person. It's better to just have a well formatted FAQ on your site.
The chat agent has no access to what the customer is doing online. In other words, there is absolutely no context maintained between these two channels.
By the end of the chat, it seems like the chat agent's only function is to refer the customer to the phone line. It would be better if the customer simply started by calling. The chat session consumed 30 minutes and added no value at all. This is as bad as it can get.
What's the lesson for your contact center? While it is relatively easy to add basic chat functionality, implementing a proper chat strategy is not. It turns out the challenge with chat is not the technology, but rather all the business processes around it. These include:
Maintaining context between chat and other channels that a customer may have used.
Training agents in chat etiquette.
Ensuring there are enough agents to respond to chats (and if there are not, hiding the chat option).
Empowering chat agents to actually be useful.
Live Chat, at its Best
Netflix, already well known for good customer service, provides us with an example from the other end of the spectrum. In a recent live chat, one of their agents really took things to the next level. The customer at the other end of the line was so pleased, he posted it to Reddit and the whole thing went viral. Although the chat agent wasn't able to immediately fix the problem, he quickly established a rapport with the customer (albeit a very quirky one) and certainly left him smiling.
Escalation to Voice
We saw in the ACA chat example that the customer was ultimately redirected to the phone channel. This is a common end-point for chat support. There's nothing wrong with escalating from chat to voice if that's really the only way to resolve an issue. What is wrong is making the customer "start over" when calling in. When done properly, live chat support can improve customer satisfaction and even lower cost-per-call in the call center.
The most important thing to get right when providing multi-channel support is maintaining context between channels. I'll close with a short plug for Fonolo, which can be used to add seamless escalation-to-voice capability to any live chat implementation. If your company is offering live chat support, this is definitely worth examining.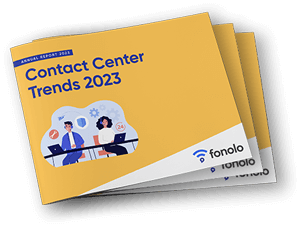 Trend Alert! Contact Center Industry Predictions for 2023
This report offers perspective on where the contact center industry stands today, plus our trend predictions for 2023.