Sounds good, doesn't it– a single, focused strategy that produces a dramatic increase in customer experience for your brand? If only it was that easy.
The truth is: where your customers are concerned, there are no shortcuts to success. Improving the customer experience is an ongoing process, constantly changing how companies do business. But the companies that make it a priority are rewarded with improved customer loyalty and increased revenues.
Here are some key approaches every organization can employ in order to improve their relationship with customers.
1) Make Customer Service a Priority
It sounds easy enough, but the key to being a top performing service organization is to have commitment at all levels of your organization, from the call center reps to the CEO. Management must treat employees like they want the customer to be treated (even better), and set the example for all to follow.
In other words, create a culture of customer service inside your organization and watch how it flows through to your customers.
2) Stop Treating Your Call Center like a Cost Center
Your call center reps are on the front line of your business, constantly interacting with customers. Each one of these interactions is more than just a cost, it's an opportunity to create a lasting impact with customers and improve your brand. With each positive experience, you can build a loyal customer who will carry your message on to friends and family. (Isn't that exactly why you spend money on advertising?)
But this won't happen when you're solely concerned with reducing costs at the call center and getting customers off the phone as quickly as possible. Don't just add up the expenses; rather, get management involved in a customer service role on a regular basis – listening to calls and helping customers.
It's time to look at your call center as the hidden gem in your customer service organization.
3) Don't Just Listen to Your Customers, Hear Them
Many organizations downplay the importance of customer feedback, thinking that customers won't take the time to provide useful information about their experiences. But the truth is, customers often love to share their experiences – for better and for worse. You just need to ask them in a way that's fast and convenient.
Capturing customer feedback doesn't have to be rocket science. It can be a simple link on your website to a form, a line at the bottom of outgoing emails (e.g. "Help us improve!"), or a friendly question from your call center reps. After all, the best way to hear the answer is to ask the question.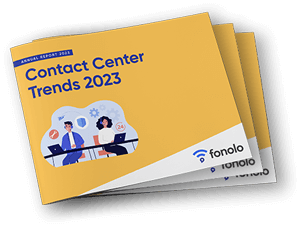 Trend Alert! Contact Center Industry Predictions for 2023
This report offers perspective on where the contact center industry stands today, plus our trend predictions for 2023.