Last week we published a list of top analysts covering the contact center space. Those folks are a terrific resource for following the rapidly evolving call center industry. In the same spirit, we are publishing a list of top analysts covering the topics of customer service / customer experience.
These topics have a lot of overlap, since a finely-tuned call center is essential for delivering a good customer experience. There is so much overlap that, in fact, some of these analysts could have gone on either list.  We did our best to segment them appropriately.
Here is the list, in alphabetical order.
Megan Burns
Sumair Dutta
Paul Hagen
Elizabeth Herrell
Esteban Kolsky
Kate Leggett
Richard Snow
Bruce Temkin
Ed Thompson
Below you'll see a short profile of each analyst including title, area of focus, representative quote and recommended reading. If you think we've forgotten anyone, please let us know in the comments.
---
Megan Burns
Vice President & Principal Analyst, Customer Experience, Forrester
Focus: UC, Call Center, SIP, VoIP
Web: Forrester.com
LinkedIn: Megan Burns
Twitter: @mbcxp
What customers really want is to communicate on their terms and come away feeling that the agent is on the same page. When agents have a full complement of UC tools to work with, they can put customers at ease right away, regardless of how they are getting in touch.
Recommended Reading:
---
Sumair Dutta
Chief Customer Officer, The Service Council
Focus: Field Service Workforce Management, Customer Service Contact Centers, Multi-Channel Support, Social Support, Mobility
LinkedIn: Sumair Dutta
Twitter: @suma1r
The traditional boundaries of service, sales and marketing are blurring as each is involved in and impacts the performance of the other.  More so, these are just internal boundaries, as the customer's journey doesn't necessarily follow a linear path that allows for a straight hand off.
Recommended Reading:
---
Paul Hagen
Principal Analyst, Forrester
Focus: Customer Experience Strategy, Organizational Culture
Web: Forrester.com
LinkedIn: Paul Hagen
Twitter: @PaulHagen
An effective way to ensure that experiences meet customers' needs is to bring customers and frontline employees into the design process through co-creation. When they are face-to-face with a design team, customers can provide valuable input, including firsthand accounts of what they want, seeds of ideas to build upon, and feedback for real-time prototyping."
---
Elizabeth Herrell
Vice President and Principal Analyst, Constellation Research
Focus: Communications, Contact Centers, Customer Experience
Web: Constellation Research
LinkedIn: Elizabeth Herrell
Twitter: @eherrell
Despite the growing complexity of channels, customers demand simplicity in their experiences. This customer-centric cohesion requires a new paradigm in user experience. Get ready to make the shift as the front office comes the back office to form a new engagement strategy.
Recommended Reading:
---
Esteban Kolsky
Independent Analyst
Focus: Customer Experience, CRM, Social Media
LinkedIn: Esteban Kolsky
Twitter: @ekolsky
…the advent of social networks and customers reclaiming their voice and control of the conversation… That was the tipping point; that was when efficient contact centers needed to become effective contact centers… Effectiveness is about delivering the "Three Rs" of effective customer service and this is what customers want and need:  Right information.  Right Channel.  Right Time.
Recommended Reading:
---
Kate Leggett

Principal Analyst, Forrester Research
Focus: CRM, Customer Service
Web: Forrester.com
LinkedIn: Kate Leggett
Twitter: @kateleggett
Good service is difficult to deliver because the technology ecosystem that customer service organization use has grown more complex over time. Vendor mergers and acquisitions, the rise in importance of social computing, and new cloud solution deployment options present new opportunities for customer service executives.
Recommended Reading:
---
Richard Snow
Global VP & Research Director, Ventana Research
Focus: Customer Experience Management, Voice of the Customer
Web: Ventanaresearch.com
LinkedIn: Richard Snow
Twitter: @rjsnowvr
…consumers have changed their communication habits, the channels through which they investigate and buy new products, and the ways they collaborate with other like-minded consumers. This means companies have to run to catch up.
Recommended Reading:
---
Bruce Temkin

Managing Partner, Temkin Group
Focus: Customer Experience
Web: Customer Experience Matters
LinkedIn: Bruce Temkin
Twitter: @btemkin
Companies must learn to integrate their customer feedback with other customer data and tap into rich sources of customer insights in unstructured data such as open-ended comments, call center conversations, emails from customers, and social media.
Recommended Reading:
---
Ed Thompson

VP and Distinguished Analyst, Gartner Research
Focus: CRM, Customer Experience Management
Web: Gartner.com
LinkedIn: Ed Thompson
Twitter: @Gartner_inc 
Social media adoption can take several paths to CRM. However, more than 80% of organizations follow a common pattern.
Recommended Reading: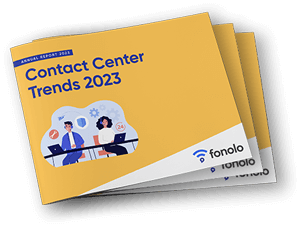 Trend Alert! Contact Center Industry Predictions for 2023
This report offers perspective on where the contact center industry stands today, plus our trend predictions for 2023.