If your call center has long hold times then study after study tells us that your customer satisfaction is at risk. One way to reduce your average hold time (or ASA which stands "Average Speed to Answer") is to increase the number of agents. If you have the budget, you can always add as many agents as you need to meet a target ASA. But of course, budgets in the real world are always constrained, so this is not usually a viable solution. That's especially true if your call center has occasional volume spikes. If you staff to the peak volume, you will have a lot of excess agent capacity at other times. (By the way, dealing with volume spikes was exactly the topic of yesterday's webinar with Bright Horizons.)
So if you're stuck with an ASA that's endangering your customer experience, the best option is to give your callers the choice of receiving a call-back from the next available agent. The reaction we've seen from callers, when they hear that a company is offering them a call-back option is always very positive. A recent study from Forrester found that 75% of customers think the option of a call-back is "highly appealing".
But call-backs can do much more than just ease the pain of hold-time. Here are 3 other reasons you should consider adding them to your call center:
 1) Reduced Abandon Rate
Abandon rate is a metric that many call center managers watch closely. Abandonment leads to higher repeat calling (which can strain the call center system) and, of course, dissatisfied customers. A recent study of 200 contact centers found that when call-backs were added, 32% of the contact centers experienced fewer abandoned calls. I'm happy to report that our recent deployment with Bright Horizons yielded results aligned with this data. After adding callbacks with Fonolo's "In-Call Rescue", their abandonment rate fell by a third.
2) Reduced Handle Time
When customers have to wait on hold, they often take out their frustration on the agent, and can be difficult to deal with. Both things increase handle time which, of course, increases cost-per-call. When Optus deployed Web Rescue in 2011 they found that their handle times were reduced by 14%.
3) Reduced Telco Cost
Finally, call-backs can reduce cost-per-call by making better use of telco resources. With the traditional approach to keeping a caller on hold, a PSTN line is occupied the whole time. Often this is on a toll-free DID, which can carry higher per-minute rates. By replacing hold-time with a call-back, those lines are freed up. When Canadian ISP Allstream deployed Mobile Rescue to their field technicians, they saw a 35% reduction in cell phone bills.
How Fonolo Compares
If you are shopping around for a call-back solution you might think Fonolo sounds similar to other offerings on the market like Cisco Courtesy Callback or Virtual Hold. You're right: those are all valid options. Here are the two most important things you should know when assessing Fonolo:
Fonolo is cloud-based. That means minimal integration, rapid deployment, and compatibility with whatever equipment your call center has today (or will have tomorrow).
Fonolo is SaaS. That means minimal up-front cost and pricing that scales with usage.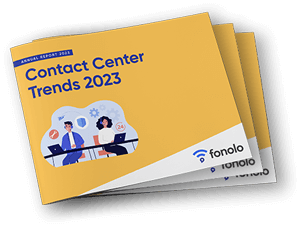 Trend Alert! Contact Center Industry Predictions for 2023
This report offers perspective on where the contact center industry stands today, plus our trend predictions for 2023.