Having been raised by British parents, my inner monologue has an English accent. So when I'm on hold for an extended period, I'm reminded to "keep a stiff upper lip" and, of course, to "keep calm and carry on", a saying made famous during the Second World War. "Surely," you're thinking, "that's a little dramatic". You're right of course, but when you've been stuck on hold for god-only-knows-how-long, it can sure feel like you're fighting a losing battle.
Battle of Britain
Poor phone-based customer service isn't just a North American phenomenon: Just ask customers of British Sky Broadcasting Group. According to onholdwith.com (a site that catalogs complaints from Twitter users stuck on hold), BSkyB is a top offender:
Not only are they subjecting callers to long wait times, they're hanging up on them and failing to call them back, something that has their customers seeing red.
They're not the only UK-based company dropping the ball: Barclays, the British banking giant, is also racking up complaints from its customers:
While we all hate waiting on hold, there's nothing quite as maddening as being hung up on … or is there? British Telecom customers might disagree:
I can't help but think how so much of this pain could be avoided, improving the experience for customers of these companies while creating operational efficiencies at the call center. For example, a call-back solution like Fonolo (which easily integrates with any call center) can reduce handle times, abandon rates and cost-per-call, while giving callers back what they value most: their time.
To those of you still stuck on hold, stay strong.  In the immortal words of Sir Winston Churchill,
We shall never surrender.
About onholdwith.com
Onholdwith.com catalogs and publishes tweets from people waiting on hold and alerts offending companies – ultimately giving consumers a voice.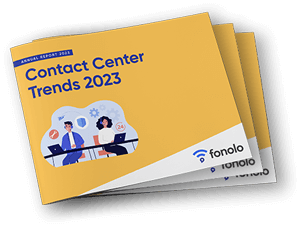 Trend Alert! Contact Center Industry Predictions for 2023
This report offers perspective on where the contact center industry stands today, plus our trend predictions for 2023.