According to StellaService, 71% of shoppers become extremely frustrated while waiting on the phone and 67% will hang up without resolving their issues.
Clearly, this is the outcome of a contact center having too many calls and not enough agents. The end result is a poor customer service experience, something that's all too common these days.
Spikes in call center volume can be the result of both predictable and unpredictable causes. From a seasonal rise in calls to an unexpected spike brought on by circumstances beyond your control, it's key to have a solution in place to handle large increases in call volume.
Improve Call Center Performance
Learn how Chris Abel, Director of Contact Center Operations at Bright Horizons Family Solutions, seized the opportunity to smooth out volume spikes and offer a great customer service experience.
Chris Abel, Director of Contact Center Operations, Bright Horizons
Chris is responsible for all operations supporting four lines of business and managing third-party vendor relationships. Prior to joining Bright Horizons, Chris spent 15 years in the financial services industry.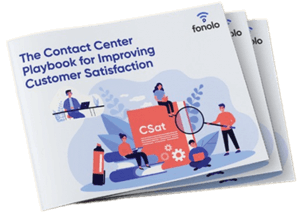 The Contact Center Playbook for Improving Customer Satisfaction
In this handy playbook, contact center leaders will learn the ins and outs of improving customer satisfaction.