The answer is simple: it all boils down to performance and the effect it has on the customer experience. There are three things we can all agree with when it comes to phoning a contact center:
Callers don't like to be on hold
Agents don't enjoy talking to callers who have been on hold
No call center wants to have long hold times
In a perfect world, your organization would always have enough agents to handle the number of incoming calls. However, this isn't realistic in a typical call center. Spikes in call volume can and do occur, and the end result is a poor customer service experience. This is something that all service organizations should avoid, particularly since 35% of customers will stop doing business with a company after a poor experience.
How to Improve Call Center Performance
Ultimately, the idea is to put the customer in charge of their own destiny by giving them choice. Offering options to callers does something amazing for the customer experience: it empowers callers to choose how they want to resolve their issues.
Today, there are tools available to reduce hold times and smooth out call volume spikes in the call center. These can also empower customers, decrease hold times, reduce abandonment rates, improve employee morale, boost agent productivity and reduce telco costs.
Interested in Learning More?   
Chris Abel, Director of Contact Center Operations at Bright Horizons Family Solutions, illustrates how his company seized the opportunity to smooth out volume spikes and offer a great customer service experience.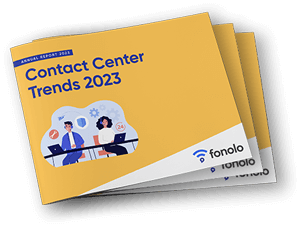 Trend Alert! Contact Center Industry Predictions for 2023
This report offers perspective on where the contact center industry stands today, plus our trend predictions for 2023.