As we recover from Black Friday and gear up for the holidays, retailers are left thinking about the shopping experience and its impact on sales. For shoppers, the experience is all too familiar: hoards of people flocking to malls, packed parking lots, and inevitably long checkout lines. But the shopping experience today doesn't have to be so frantic. Consumers have the buying power to streamline this process – and possibly eliminate it altogether – and it sits in the palm of their hands.
Smartphone Use and the effect on Retailers
Smartphones are no doubt an essential aspect of the shopping experience. A recent study from Usablenet shows that 70% of shoppers remain mobile-ready, even when they are inside a store. Consumers use their smartphone to search for coupons, compare prices, and check product availability. As a part of the pre-buying experience, shoppers use smartphones to connect with their social network by sharing photos and checking product reviews.
However the main use (and the best way to eliminate the chaotic shopping experience), is interacting with mobile apps and mobile-friendly sites that allow consumers to browse and checkout. 79% of shoppers use their smartphone for this exact reason, so retailers who don't offer this choice are missing out on a huge revenue opportunity. In the US, 41% of shoppers use their smartphone to browse and purchase at least once a month and 34% do so almost daily.
Arm your retail apps and mobile sites with the right capabilities so that you can reap the benefits this holiday season.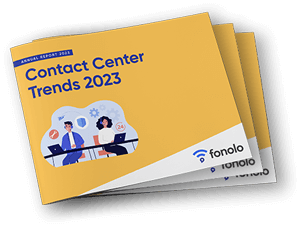 Trend Alert! Contact Center Industry Predictions for 2023
This report offers perspective on where the contact center industry stands today, plus our trend predictions for 2023.