It's no surprise that keeping call center agents engaged can be a real challenge, given the repetitive nature of the job (answering an endless stream of phone calls) and the metrics-based approach used to track performance. Often, management is more concerned with the numbers of calls handled than the well-being of call center staff, creating few incentives for agents to focus on the customer experience.
Improving agent morale takes more than just an attitude adjustment. It requires recognizing that there's more to the call center than just efficiency and productivity, and the application of many of the same approaches used to keep upper-echelon workers incented.
Many successful companies have learned the importance of maximizing every opportunity to interact with customers, rather than treating contact centers as just cost centers. Here are some of their approaches for improving caller satisfaction.
Reward the Team
The typical approach of rewarding individual agents for specific performance often leads to an overly competitive environment where stress prevails.
To encourage teamwork, consider compensation based on group-wide performance. This emphasizes the importance of the team and encourages an environment of sharing and mentoring, leading to an increase in employee satisfaction.
Invest in Technology that Makes it Easier
Many of the same technologies that help lower costs can improve the experience for both customers and call center staff alike. For example, by being able to quickly identify customer needs and route calls to the correct agent. Tools like speech analytics allow companies to create more accurate profiles of customers and agents, leading to better quality conversations and happier employees. There's also call-back technology which improves the experience for both agents and customers. These solutions shorten handle times by ensuring that conversations start off on a happy note, rather than an angry discussion about extended hold times.
Make the Contact Center Part of the Corporate Culture
Making the call center a priority requires recognition at every level of an organization, from the CEO on down.
Online retailer Zappos achieved legendary status for its customer service by focusing on employee culture. From 2000 to 2008, it went from $1.6 million in sales to a whopping $1 billion and became the highest-ranking newcomer in Fortune magazine's "Best Companies to Work For" list. Call center workers at Zappos receive seven weeks of training on company culture and customer happiness. And, to the point, employees at all levels of the company are required to spend time on the phone so they understand what it's like.
In a blog post from FastCompany, brand strategist Adam Hanft proposes that,
… every CEO and CMO spend an hour a week listening in on some of their customer service calls. The result would be eye-opening – and a revolution in customer service, I assure you.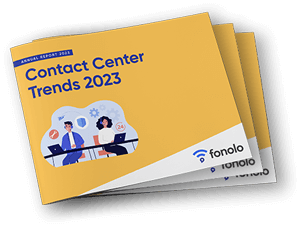 Trend Alert! Contact Center Industry Predictions for 2023
This report offers perspective on where the contact center industry stands today, plus our trend predictions for 2023.