Call center agents are often the first point of contact for potential customers and a frequent point of contact for existing ones. The kind of experience that agents deliver to callers says everything about your brand. In a world where consumers are increasingly hard to satisfy, why take the chance of delivering a poor experience and losing goodwill with your customers?
In a perfect world, your call center would be staffed with highly trained "Super-Agents", able to take on a range of responsibilities and engage with customers across multiple channels, resulting in operational efficiencies, increased customer loyalty and higher sales.
Sounds like fiction? For many companies, by developing a corporate culture where real value is placed in the call center and reflected in the hiring, training, and nurturing of talent, it's a readily achievable goal.
Creating the super-agent takes time and patience, both scarce commodities in most call centers. Not every employee is up to the challenge, but recognizing, training and promoting the ones that are is key to this objective.
What's also required is an understanding of the technologies and current trends affecting the industry as a whole.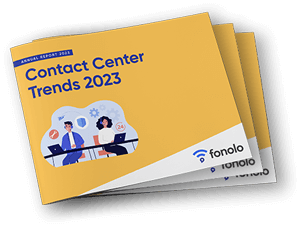 Trend Alert! Contact Center Industry Predictions for 2023
This report offers perspective on where the contact center industry stands today, plus our trend predictions for 2023.