Successful companies know that a focus on customer experience is essential to prosperity in the market. A wide range of technologies have emerged over the last few years to help meet the rising demands of today's consumer, but customer satisfaction scores continue to drop. (See this recent study from Dimension Data, for example.)
Perhaps the answer is to expand the area of focus. Instead of optimizing just the experience of the customer, companies should optimize the customer engagement.
A decade ago, the "call center" got renamed the "contact center", in order to reflect the expanding role that it was undertaking. Some in the industry, including analyst firm Gartner, are saying it's time for another transition: to "Customer Engagement Center" or CEC. According to Gartner's IT glossary, a CEC is…
…a set of technologies and business applications that are engineered to provide customer service and support, regardless of the interaction (or engagement) channel.
That might sound indistinguishable from a definition of the contact center, but the difference is in the goals. Whereas a contact center provides "service to customers as they move among communications channels — including social media and community forums — while retaining the customers' context." A Customer Engagement Center has the expanded goal of "delivering the appropriate business rule to determine the next best action, information or process with which to engage the customers."
This concept lines up well with recent data from the Contact Center Satisfaction Index which tried to find what changes would drive customer satisfaction. As you can see in the image below, the changes with the biggest impacts are "policies and procedures" and "contact process". You can read more this and related trends in our new whitepaper.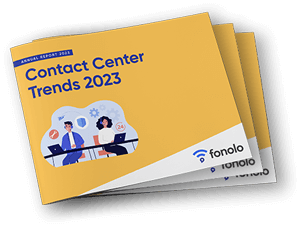 Trend Alert! Contact Center Industry Predictions for 2023
This report offers perspective on where the contact center industry stands today, plus our trend predictions for 2023.