Now that we've entered the frigid month of January (at least for us folks in Toronto), it seems fitting to take a look back at the year. While stats, trends, and quotes seemed to be the talk of the town, infographics didn't appear to receive the same amount of attention. Luckily Fonolo is here to fill that gap! These graphical elements are a fabulous representation of information and data that can be easily and quickly understood.
Social Customer Service: The Next Battle Ground
The infographic shows the rise of social media in the contact center. 87% of customers are demanding better service, yet 58% of those who have tweeted about a bad experience have never received a response from the offending company.
Source: Bluewolf
A Wake-Up Call for Call Center Executives
Here we see illustrated that many call center agents are both under-trained and under-equipped to effectively complete their tasks. It shows some alarming data points that could be avoided with the right tools and the right training in place.
Source: Openspan
The Contact Center of the Future
This highlights some very important points on the overall future of the contact center– from understanding what customers want, to predicting contact center trends. This is a great way to achieve a 360 degree view of the call center.
 Source: Astute Solutions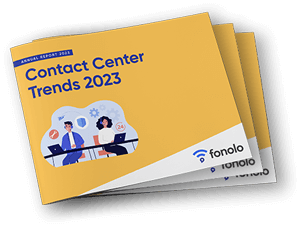 Trend Alert! Contact Center Industry Predictions for 2023
This report offers perspective on where the contact center industry stands today, plus our trend predictions for 2023.