I'm pleased to share with you a new Customer Success Story for today's video break. The customer in this case is Bright Horizons (NYSE: BFAM), is a provider of child-care services, operating over 800 centers around the world.
Many call centers have peaks in their call volume as a result of holidays, bad weather, special promotions, etc. It can be a challenge to maintain a positive customer experience during these peaks, especially with a high Average Speed to Answer (ASA). Call center managers usually don't want to staff up to cover the peak levels, because that would leave excess agent capacity during the off-peak days. One way to help smooth out these volume spikes is to give callers the option of a call-back, rather than waiting on hold. That way, they can go on about their lives and not be tied to a phone.
Summary
Bright Horizons operates an Avaya-powered call center and handles 31,000 calls per month. They often see volume spikes which can overwhelm staff and leave callers on hold for unacceptably long times. Their executives wanted to give callers the option of a call-back. In just 15 days, Bright Horizons deployed In-Call Rescue, a cloud-based service from Fonolo and had terrific results.
Deployment
The Bright Horizons call center runs Avaya Communication Manager, which has full SIP trunking capabilities (via Avaya Session Manager) – an ideal deployment scenario for Fonolo's call-back solutions. When callers "press 1" opting for a call-back, that call is transferred – over SIP – to the Fonolo cloud. Then, when an agent is available, Fonolo calls the customer and bridges the call with the agent, again using SIP.
Chris Abel, Director of Contact Center Operations said,
The fact that we could deploy in 15 days… was amazing!
Results
After a quick deployment, Bright Horizons saw a very immediate improvement in customer experience. James Wormer, Manager of the Contact Center Operations, said,
Fonolo shrunk our peaks… instead of it lasting a week, we got back to normal in a couple days.
Chris Abel added,
It also reduced the number of repeat callers, which helped reduce peaks as well.
The Video
Watch the 3 minute video below: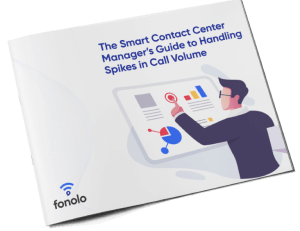 How to Manage Call Spikes in the Contact Center
Download this free guide to learn how to protect your contact center from call spikes.