What are some of the highest trending topics in the call center world? Most involve customer experience, the cloud, WebRTC and social media. What better way to get the inside scope on those topics then by watching this highly interactive Google hangout?
The best part is, we're taking your questions LIVE! You heard me right: Tweet your questions to @fonolo with hashtag #CCTR or simply comment directly on our YouTube channel and we'll ask your questions to our panel of experts.
Gear up for the fun! Here are four of the topics we'll be discussing:
1. Is there is a meaningful distinction between "customer engagement" and "customer experience"?
We continue to hear the growing term 'customer engagement'. In fact, Gartner states that by 2015, organizations that have not embraced the concept of the customer engagement center will lose customers to competitors that have.  What does it really mean and how does it compare to customer experience?
2. Is there no stopping the cloud?
Contact centers have come to appreciate the wealth of benefits that cloud-based solutions have to offer, but not all organizations have made the switch. In 2013, 6 out of 10 contact centers had plans for cloud-based deployments and by next year 18% of contact center seats will be delivered via the cloud – but what about the rest? Will some call centers stay forever premise-based?
You can prep your questions for this portion of our hangout by reading the some of the resources available to help when selecting a cloud solution.
3. Is WebRTC going to make a real impact on call centers?
The promise of WebRTC is very appealing: A seamless transition from a web or mobile interaction to a live voice call. With WebRTC, end-users don't need to download any special software application or use the same browser to communicate directly with each other. But is this technology ready for primetime? And even more importantly, is there an appetite in the call center space to use this as a support channel?
4. Has social media been a net plus or a net minus for customer experience?
Social media has had a huge impact on the call center. According to Aberdeen, by mid-2014, 70% of businesses are expected to use social media for customer service. However, all this consumer power has led to loads of public shaming over poor customer experience which has put even more pressure on service organizations. Has social media been a net plus or a net minus for customer experience?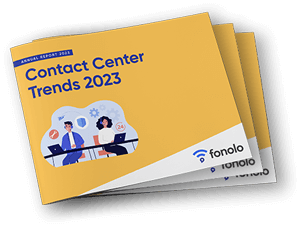 Trend Alert! Contact Center Industry Predictions for 2023
This report offers perspective on where the contact center industry stands today, plus our trend predictions for 2023.