I've been preaching the benefits of "the cloud" for years. The advantages are obvious to many – low cost, rapid speed of deployment, scalability. But while traditional businesses have long since embraced SaaS models (try finding a company who doesn't use Salesforce for CRM …), the call center industry has been reluctant to transition from the era of legacy hardware and professional services.
This past year, the industry has seen a real renaissance as companies of all sizes select cloud-based call center vendors. And the vendor market is growing substantially, as many upstart BPOs aim to challenge the large incumbent players.
Here are a few things to keep in mind before deciding if a cloud-based solution is right for your call center.
Know Your Strengths
With the efficiencies that cloud brings to the table, companies need to take a hard look in the mirror and know their strengths. Building and operating a call center can be a tremendous drain on resources- technology, operations, staffing, and workforce management. It's not for everyone, and there's no reason that it should be.
And Your Weaknesses
Cloud-based vendors offer companies the ability to fill gaps in their existing systems. For example, enhancing their current capacities with call-recording, outbound dialing, and of course, call-back solutions which allow you to eliminate hold-time and increase operational efficiencies.
It's Not All-or-Nothing
One interesting thing about a cloud-based approach is that it doesn't have to be all-or-nothing. You can outsource parts of your operations, remotely connect to hosted services, or contract additional services during peak periods, while still keeping your current call center infrastructure in place.
Given all of this, maybe the better question to ask is, "how can cloud-based solutions improve our existing call center?"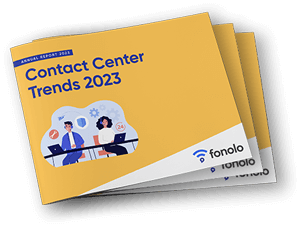 Trend Alert! Contact Center Industry Predictions for 2023
This report offers perspective on where the contact center industry stands today, plus our trend predictions for 2023.