That's the cheeky tagline from our automated service that collects tweets from people who complain about hold time on Twitter. (Yes, very clever, thank you.)
Because I spend my days talking about ASA, AHT, abandon rates and the thrilling world of a call center, I often check onholdwith.com to remind me that, at the heart of all of these stats, there are real people who hate being stuck on hold. Like these folks:
It's easy to dismiss single complaints, but the truth is that you should thank customers for complaining.  They're the tip of the iceberg: for every angry customer you see there are many you don't, and they may never do business with your company again.
Taken as a whole, these complaints can show important real-time trends.  For example, Delta is having some serious issues today (I'd mention it to them, but I'm sure they know):
Your Customers Should Never be on Hold
At the risk of sounding like a broken record, there is a better way to deliver superior customer service over the phone. If you can't answer calls in a short time frame, replace hold-time with a call-back.
It sounds complicated, but it's really not.
If your call center is overloaded, a solution like Fonolo allows you to add call-back functionality with relative ease (low cost, quick deployment, through the cloud) and at a lower cost than hiring additional agents to staff peak periods.
If hold time isn't an issue, having a call-back solution in place is an insurance policy for when call volume spikes (or your employees come down with the flu …). It doesn't kick-in until you need it, and when it does, it's a life-saver.
Your Customer Service is Your Brand
You already know this: today, customer service is one of the most important competitive differentiators. Spending 5 minutes on onholdwith.com is an easy reminder of that.
You are what you deliver!
Looking for more onholdwith data? Check out our annual list of the top ten worst companies to call here.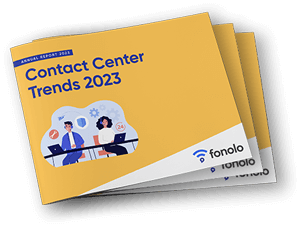 Trend Alert! Contact Center Industry Predictions for 2023
This report offers perspective on where the contact center industry stands today, plus our trend predictions for 2023.