Everyone wants to provide better customer service. After all, customers are the lifeblood of your company. There are a vast number of articles on the web touting best practices in customer service, but reading gets boring after a while, don't you think?
Some innovative companies have created powerful, engaging tools to help boost your customer service expertise and deal with everyday challenges. To combat the boredom of surfing the web and reading a ton of mundane articles, we've listed 10 tools that will engage your mind and make you smarter about customer service.
This interactive infographic is reminiscent of Operation, a familiar childhood board game. Choose a body part to learn how it plays into a rockstar customer service representative. For instance, the heart indicates that demonstrating respect and kindness to customers is critical for earning long-term loyalty. Real-world examples are highlighted for each point.
For an entertaining rundown of how the customer service landscape has changed, check out this innovative tool from Desk.com. With statistics on new customer channels (web, social, etc.), along with animated illustrations of the all-too-familiar "noise" that accompanies 24/7 consumer demand, this is a fun and engaging look at the new world of customer service.
3) ClickSoftware – Service Provider Challenges
Service providers have their own unique set of challenges that, arguably, exceed those of product-driven businesses. Why? The intangible components of service-oriented businesses can make it more difficult to devise win-win solutions and navigate the many challenges that can arise in the course of service delivery. But ClickSoftware makes it simple with this interactive tool that walks you through many potential obstacles – and the right solutions. Choose the area you'd like to improve, your challenge, and test your customer service solutions prowess.
While it's not free, dialog coach is a helpful resource for training customer service representatives through virtual role-playing. The pseudo-customer responds and offers objections, providing real-time feedback to train agents on the right talking points. It's a sales simulator for service reps, much like a pilot's flight simulator.
This 14-minute video takes a brutally honest look at patient care (a.k.a. customer service in the healthcare industry). As a follow-up, you can opt to take the virtual course to refine your skills beyond the enlightening video. It's not free, but worth it for healthcare service providers – and you can check out a comprehensive demo online to see if it's a good fit for your existing onboarding program.
6) Customer Service Diagnostic Questionnaire
Learn Customer Service Online offers a diagnostic questionnaire to help you gauge where your (or your staff's) customer service skills fall on the spectrum and identify which areas require more education, training, practice or improvement. Then, you can choose from a selection of online courses that address your specific needs.
A complete customer service program, MAGIC Workouts is a proven system that transitions customer service representatives from ordinary to extraordinary. From standardizing the quality and consistency of customer service interactions to rapid resolution of complaints, MAGIC Workouts covers all the bases. There's a free trial to review the program before you buy.
This interactive course is free, taking you through every aspect of customer service with reading supplemented by videos, activities, and assessments. There's also a course discussion board for interacting directly with other participants.
9) Pakra
Pakra has a number of online games related to customer service in different settings, such as call center, healthcare, and so on. Choose a game that's in line with your business requirements, and get to work demonstrating your superior customer service savvy.
This video series from Customer Service Zone (by Bacal and Associates) covers the one situation dreaded by every customer service rep: the angry customer. It's not just idle video-watching, however; there are activities and assessment questions to make sure you're on the right track. When you're finished with that, check out Customer Service Zone's comprehensive, new-for-2014 course, Winning The Customer Service Wars Through Radical Customer Service.
These examples represent just a few of the interactive tools at your disposal to develop your customer service expertise. With so many engaging resources at your fingertips, there's no excuse to provide shoddy customer service.
Guest Blogger: Katelyn Roberts
Katelyn is freelance writer with Cornerstone Content. She is always looking for new opportunities to connect. You can find her on Twitter (@Katelyn_Writes) and Google+ (+KatelynRoberts2014) if you would like to connect with her.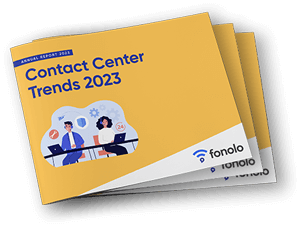 Trend Alert! Contact Center Industry Predictions for 2023
This report offers perspective on where the contact center industry stands today, plus our trend predictions for 2023.