As consumers, we want a good experience… no, scratch that. We want good "engagement" with the companies we deal with. And we want it across an increasing number of channels.
A recent study reports that 77% of consumers use more than one channel when seeking service, so a key ingredient to happy consumers is offering support where and when they need it.
With 88% of all organizations delivering a multi-channel service experience, the differentiating factor will now be in the quality of those interactions. How can your call center meet the rising expectations of consumers? Here are 3 "best practice" tips worth reviewing.
1) Your Voice Channel MUST be Excellent
Studies continue to confirm that the voice channel is the most important factor in customer satisfaction.
The best data I've seen on this front comes from a study done by American Express called the Consumer Service Barometer. It looked at channel preferences based on the nature of the inquiry. For "simple" inquiries (like "What's my balance?") online self-serve and email were the clear winners. But the balance shifts dramatically when the inquiry gets more complex and "live agent" becomes the dominant choice. See the image below.
If you're still unconvinced, check out our earlier posts Why Focusing on Voice is the Key to First Call Resolution and 3 Charts that Show the Voice Channel is Still King.
So what do you need to have an excellent voice channel? For starters, you need to make sure you don't leave callers on hold for more than 60 seconds. If you don't have the staff levels to meet that level of responsiveness, you should give your callers the option of a call-back.
2) Make Sure Your Channels are Aligned
Speaking of long hold times, analyst Blair Pleasant had a particularly bad experience with an airline a few weeks ago. She shared the story with the world via a lengthy blog post, "Why We Need True MultiChannel Contact Centers" where she took the airline to the task and offered a list of recommendations:
My wait in the queue was unreasonably long. By offering call-back capabilities, I could have hung up, gone about my business, and received a call once an agent became available.
If the supervisor or managers noticed that the average wait time for phone agents was too long, they could have shifted agents handling non-real-time interactions, such as email, to the voice queue.
I received absolutely no response or acknowledgment from my tweets. The airline needs to develop a social customer care strategy that monitors and responds to social media posts. The airline is active on Twitter and social media solely for marketing and branding purposes, but not as a customer care channel.
Offer web self-service options. Using the web would have enabled me to change my flight and saved me a lot of time if I actually needed to change my flight.
Align the various channels. There was clearly no coordination between the groups that sent out outbound notification and the phone agents. I should have received another call notifying me that my flight was on time and to disregard the previous message.
3) Focus on the Channels that Your Customers Want
With so many channels of communication in the mix, your organization will spread itself too thin if you try to cover every option. Look at your demographics and their behavior to know where to invest your effort. Luckily you don't have to do all the research yourself. Forrester's Kate Leggett (one of our "Top Contact Center Analysts to Watch") is a great source of this kind of information. From her most recent study on channel choices:
Consumers want to use more, rather than fewer communication channels for customer service.
Consumers are using a set of new channels were not statistically significantly used 3 years ago. For example, SMS, click to call, screen sharing, virtual agents
Online and digital communication channels are becoming increasingly utilized for customer service
Voice is still the most widely used channel, with a 73% utilization rate. This percentage has not changed in the last 3 years.
(That last bullet point lines up with the first "best practice" tip in this blog post.)
Most importantly, Leggett states a bold conclusion: "Focus on deploying communication channels that your customers want to use, and that are consistent with your value proposition to your customers."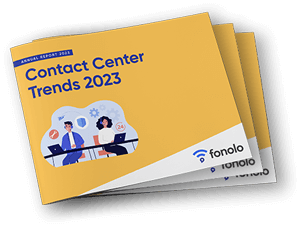 Trend Alert! Contact Center Industry Predictions for 2023
This report offers perspective on where the contact center industry stands today, plus our trend predictions for 2023.